Machida Wins Controversial Decision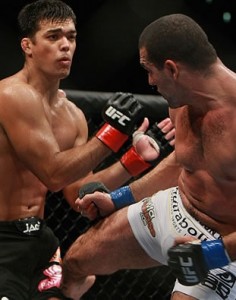 Even Lyoto Machida thought he may have lost his Light Heavyweight title to Mauricio Shogun Rua at UFC 104 on Saturday night in the Mandalay Bay events center in Las Angeles.  Machida hung his head as if he were anticipating defeat when the official results were announced, and the unanimous decision was awarded to the Dragon. The crowd booed the decision and immediately following the announcement, UFC President Dana White said that he thought that Shogun should have won the decision, and that Shogun had won the 1st, 4th, and 5th rounds to give him the win. Everyone was a little surprised to hear the results but none the less, Lyoto successfully defended his UFC Light Heavyweight title against Mauricio 'Shogun' Rua.
While Machida fought hard for 5-five minute championship rounds and came out victorious, Shogun proved to be quite the test, as he stayed on the attack, was more aggressive, and landed more shots than Lyoto through out the 5 rounds. The Muay striking of Rua was very effective in countering the Karate striking from Machida. It was a great display of the two striking styles and well faught 5 rounds out of both fighters.
Get UFC 104 Gear From Machida and Shogun
Cain Velasquez TKOs Ben Rothwell
In the featured heavyweight fight, undefeated up and comer Cain Velaquez defeated IFL veteran Ben Rothwell by TKO at the :58 mark of round 2. The stoppage added more controversy at UFC 104, as many believed that the fight was stopped too early by referee Steve Mazzagotti. Velasquez abused Rothwell from the very beginning of the first round with takedowns, ground and pound, and then standing up exchanging blows. The second round started the same with Velasquez unloading on Rothwell with strikes to the face, allowing him to pin Rothwell's left arm against the cage and pound Rothwell at will. Ben Rothwell freed his arm and was getting to his feet when ref Mazzagotti made a poor decision to call the fight. Regardless, it was a great performance by Cain Velasquez, who remains undefeated at 7-0 and puts him in contention for the heavyweight title.
Get UFC 104 Gear From Cain Velasquez
Joe Stevenson Beats Down Spencer Fisher
In the featured Lightweight bout, Joe Stevenson scored a submission due to elbow strikes victory over Spencer Fisher in the fourth minute of round 2. The first round was fairly even as both fighters felt each other out and, despite a little cut on Fisher, no real damage was done to either fighter. The second round was all Stevenson. He connects with a hard right hand and then took Spencer Fisher to the mat and pinned him against the caged. After gaining half mount, Stevenson started to land a barrage of elbows and punches that went unanswered and opened up Fisher's face when referee Herb Dean stepped in to bring a stoppage to the fight.
UFC 104 Gear From Joe Stevenson
Tibau Dominates In Decision Win
Brazilian Gleison Tibau showed off his wrestling skills as he repeatedly took his opponent, Josh Neer, to the ground but was unable to make anything of it. In round 1, Gleison controlled Neer from the beginning by scoring take down after take down but Neer managed to escape to his feet every time. Both Rounds 2 and 3 saw much of the same and was very uneventful.  Gleison continued to take down Neer but never made anything of it, while Neer was unable to stop the take down and was uneffective on the attack. The crowd booed both fighters after the fight.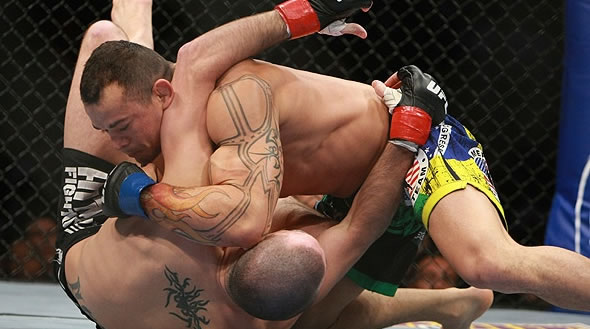 UFC 104 Gear – Get Gleison Tibau MMA Fight Shorts and Walk out T-Shirt  Now
Sonnen Wrestles To Win Over Okami
In other UFC 104 fights, Yushin Okami squared off with Chael Sonnen in a middleweight bout. As a great wrestler, Sonnen takes control of the fight by taking Okami down at will and allows him to set up his striking, as Okami was concentrated on stopping the take down. Okami was unable to create an counter attack against Sonnen's take down and striking, allowing Sonnen to stay aggressive and on the attack the whole fight.  Sonnen dominated in his unanimous decision victory over Okami.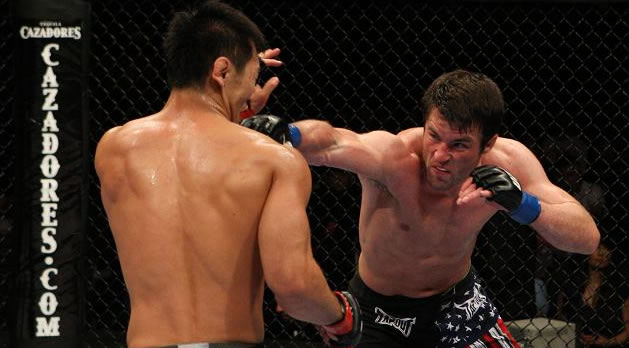 UFC 104 Gear – Get Sonnen and Okami MMA Fight Shorts Now
Anthony Johnson Makes Quick Work of Yoshida
In a fight that was originally set for welterweight 170 lbs, Anthony Johnson failed to make the weight so the bout was fought at a catch weight of 176 lbs. Yoshiyuki Yoshida did not know what was in store for him. From the very beginning of Round 1, Anthony Johnson abused Yoshida with countless strikes to the face, and ended the fight via TKO due to punches just 41 seconds into the round. Up and comer Johnson improves his MMA record to 8-2 and should be in line for a tougher opponent, while Yoshida drops to 11-4 and has lost 2 of his last 3 fights.
Get UFC 104 Gear From Anthony Johnson and Yoshiyuki Yoshida
UFC 104 Official Results:
Lyoto Machida def. Mauricio Rua via Unanimous Decision – Round 5, 5:00
Cain Velasquez def. Ben Rothwell via TKO (punches) – Round 2, 0:58
Gleison Tibau def. Josh Neer via Unanimous Decision – Round 3, 5:00
Joe Stevenson def. Spencer Fisher via Submission (elbows) – Round 2, 4:03
Anthony Johnson def. Yoshiyuki Yoshiro via TKO (punches) – Round 1, 0:41
Ryan Bader def. Eric Schafer via Unanimous Decision – Round 3, 5:00
Patrick Barry def. Antoni Hardonk via TKO (punches) – Round 2, 2:30
Chael Sonnen def. Yushin Okami via Unanimous Decision – Round 3, 5:00
Jorge Rivera def. Rob Kimmons via TKO (punches) – Round3, 1:53
Kyle Kingsbury def. Razak Al Hassan via Split Decision – Round 3, 5:00
Stefan Struve def. Chase Gormley via Submission (triangle choke) – Round 1, 4:04