Forrest Griffin defeats Rampage Jackson at UFC 86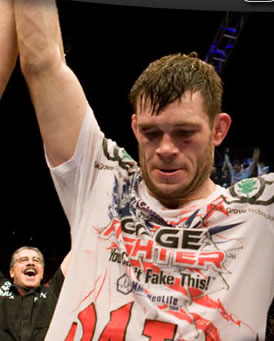 Just over three years ago Forrest Griffin was sleeping on a friends couch and didn't have medical insurance, although he made a living as a fighter. Now, he is the UFC Light Heavyweight Champion after claiming a unanimous five round decision over Quintin "Rampage" Jackson at UFC 86.
In front of a sold out Mandalay Bay Events Center in Las Vegas, NV, Griffin overcame a shaky first round by exploding in the opening moments of the second round with two leg kicks that connected to Jackson's left knee and thigh respectively. Jackson buckled and Forrest pounced, taking down, mounting and ground and pounding Rampage for most of round 2.
The next three rounds were pretty close, but Forrest pressed the action and outpointed the former champion for the victory. Rampage, always the class act, said after the fight, "He whupped my ass! Sometimes you win, sometimes you lose. He deserves it."
Other UFC 86 fight results – winners in bold:
Forrest Griffin vs Rampage Jackson (Unanimous Decison R5)
Patrick Kote vs Ricardo Almeida (Split Decision R3)
Gleison Tibau vs Joe Stevenson (Submission – Guillotine Choke R2)
Josh Koscheck vs Chris Lytle (Unanimous Decision R3)
Marcus Aurelio vs Tyson Griffin (Unanimous Decision R3)
Click to access the complete UFC 86 fight card results.