MMA Shorts in the Past
Originally, MMA shorts were made with the purpose of protecting the MMA fighters and allowing them the freedom of mobility to ensure that they are not prohibited from attacking or defending themselves. MMA shorts are specially designed to protect the fighter's mid section while allowing
more freedom of their range of motion in order to allow the fighter to expend all of their abilities. These fight shorts should give the fighter an elevated level of comfort, as well as the maximum range of motion, all while being as durable and supportive as they possibly can be. As technology and research of MMA shorts has grown, we have seen some amazing innovations in the quality of MMA shorts. When the sport first originated, MMA short's design were very basic providing the most basic needs for the fighter.
UFC & MMA Clothing of UFC 101
Get the UFC and MMA clothing brands that helped the 2009 UFC 101 fighters (BJ Penn, Kenny Florian, Anderson Silva, and Forrest Griffin) get to where they are today! Scroll down to purchase UFC / MMA clothing brands that not only support these sports, but the fighters themselves...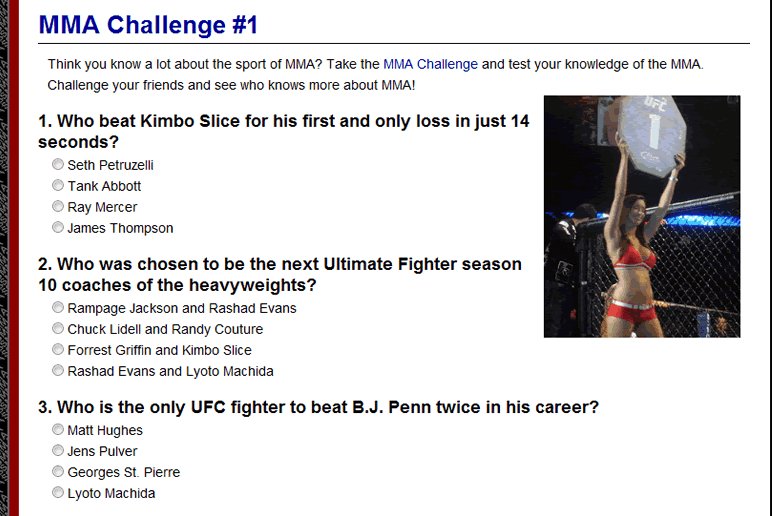 We at Kickassmma have developed an MMA quiz to challenge our viewers' knowledge of the sport.  Think you know a lot about MMA, then  visit our MMA Challenge #1 and see what kind of MMA fan you really are!  Invite your friends and challenge them to see who the true MMA whiz kid is!
UFC 100 Results, Photos, and Videos
UFC 100 anniversary was a huge success.  All of the fights on the card were very entertaining, hard fought battles that the fans of MMA love to see.  We saw up-and-comer Jon "Bones" Jones improve upon his perfect record, and further solidify his place in the UFC. If Jones keeps this up, he could be eyeing a title shot in the near future.  We saw the TUF Season 9 coaches collide in the ring as Dan Henderson put Michael Bisping in his place with what was arguably one of the best knock out punches ever. We saw GSP once again prove that he is the king of the Welterweight division and further secure his spot as one of the toughest pound for pound fighters in the world. We saw Brock Lesner prove any critics wrong as he absolutely pummeled Frank Mir. And who can forget his rediculous post fight antics.  Come on Brock, this isn't WWE! Drink a "Coors Light" and chill out!
UFC 100- MMA Fighter's Shorts
Find the MMA shorts that your favorite fighter wore at UFC 100.  Below you will find a number of different MMA shorts that were worn and represented by some of the most popular fighters at the UFC 100 event on July 11.  If one of your favorite fighters fought at UFC 100, chances are we have their fight shorts available right here at the most affordable prices.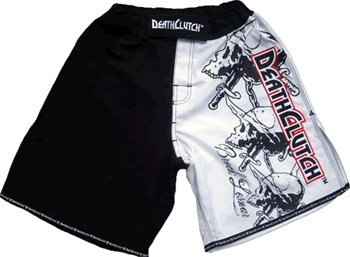 These are the MMA Shorts worn by Brock Lesnar during his pummeling of Frank Mir at UFC 100. Wanna fight like Brock Lesnar? Then get a pair of his signature MMA Shorts.
Shop for the MMA clothing that your favorite fighters wore at UFC 100! Below, you will find walk out shirts worn by fighters at UFC 100 on July 11th. Each walk out tee is categorized by fighter, and available for the price that you deserve. Support your favorite fighters by wearing the MMA clothing brands that helped them get to where they are today!