MMA Pictures from MCC 15
The photos from MCC 15 are finally here.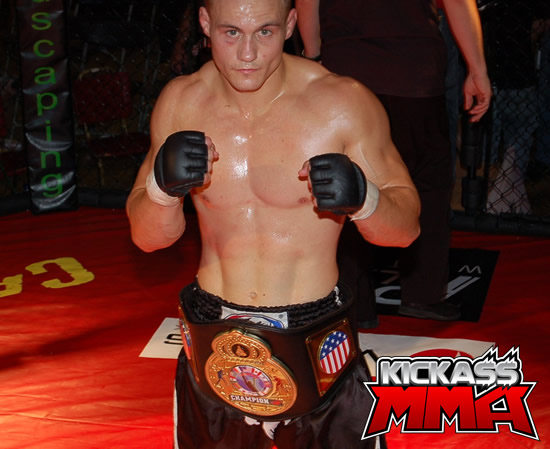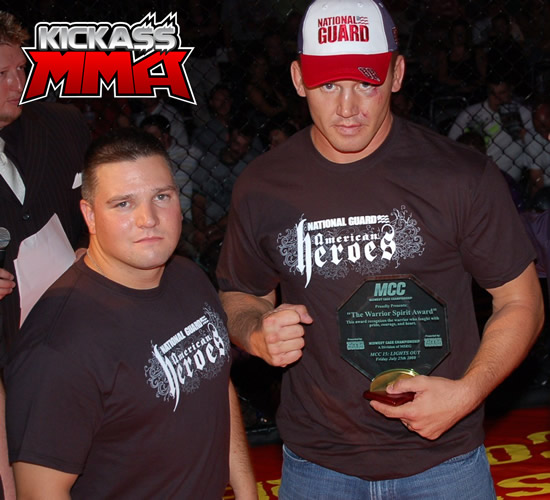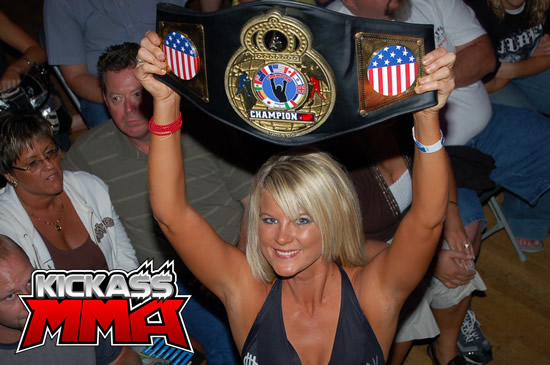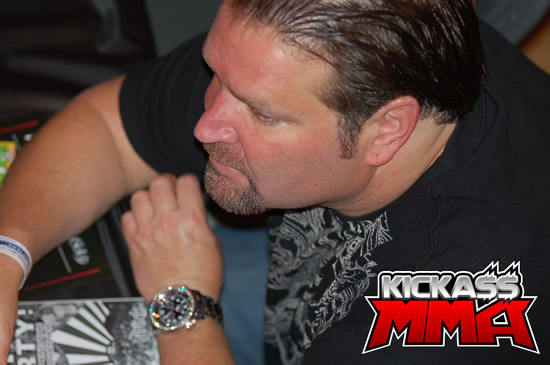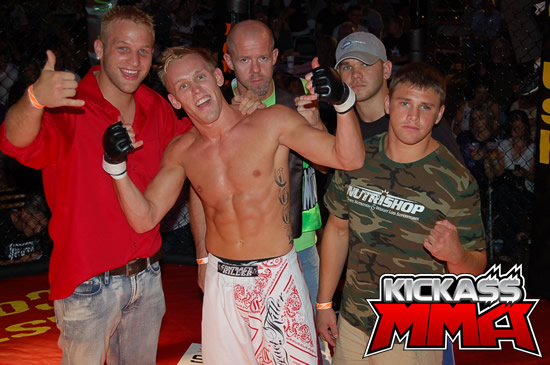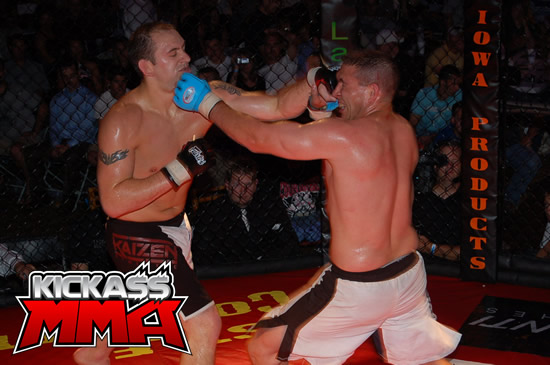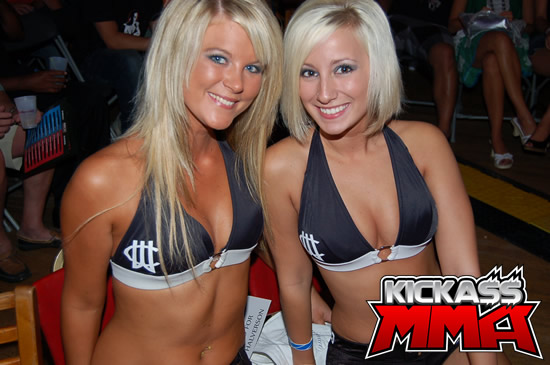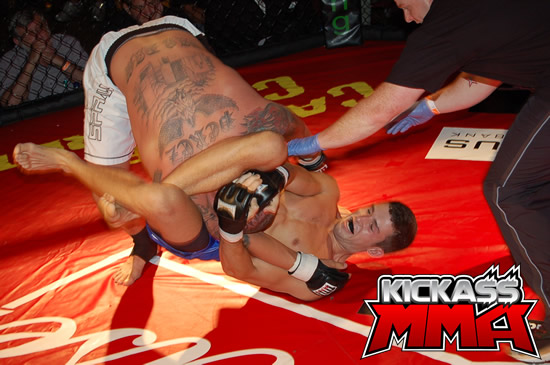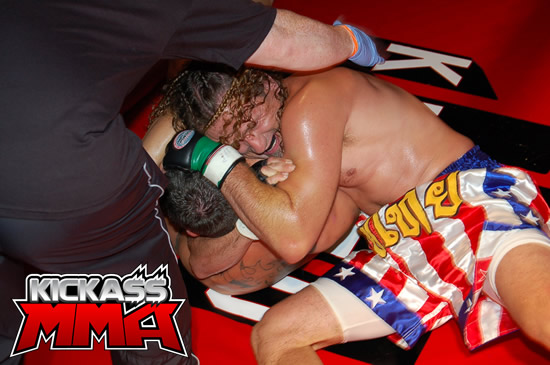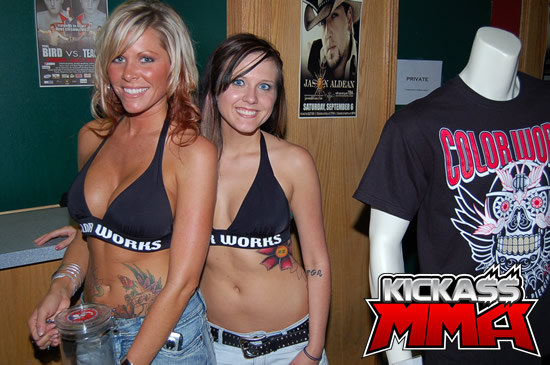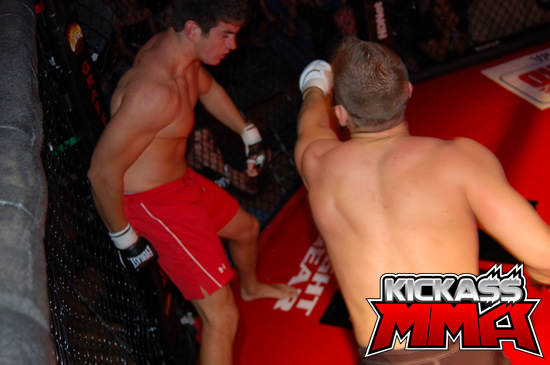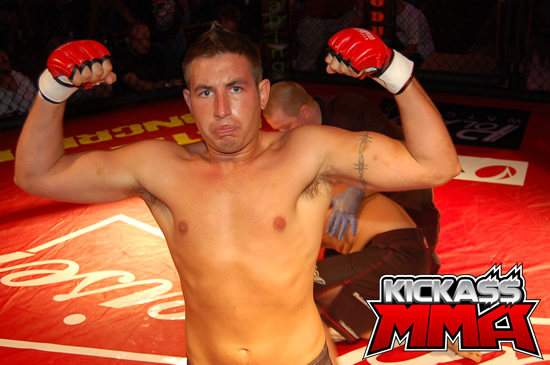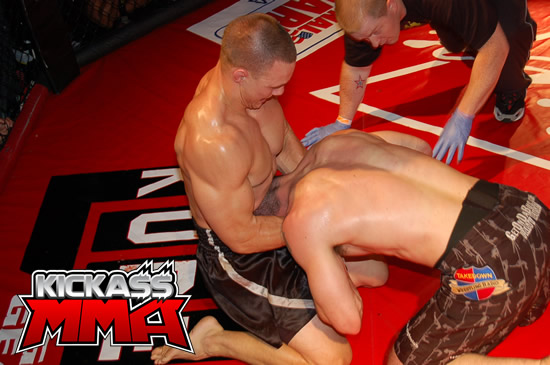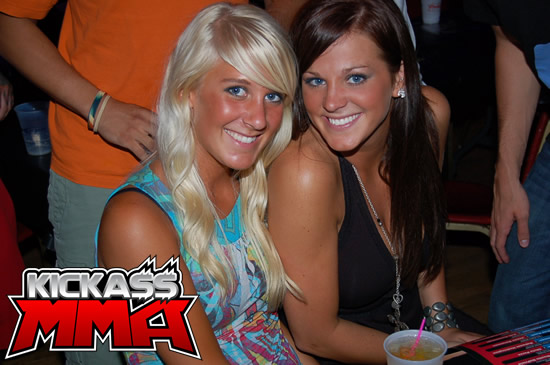 Bryce Teager Takes Home Light Weight Championship Belt
MCC 15 Event Results - winner in bold
Bryce Teager vs Paul Bird (Guillotine Choke RD2)
Zak Cummings vs Danny Anderson (Unanamous Decision RD3)
Jesse Swanson vs Matt Cook (TKO Ref Stoppage Strikes 0:25 RD1)
Rakeem Hedrington vs Josh Christenson (TKO Ref Stoppage Strikes 2:08 RD1)
Chris Perez vs TJ O'Brien (Triangle 1:13 RD1)
Dustin DiPrizio vs Ronnie Britt (Triangle 2:57 RD1)
Heath Johnson vs Jesse Lund (Rear Naked Choke 1:15 RD2)
Brad Thompson vs Colby Karaidos (KO 4:52 RD1)
Robbie Lawler Validates EliteXC Middle Weight Belt
After their first fight at EliteXC's May 31st event ended when Robbie Lawler accidentally poked Scott Smith in the eye, the rematch ended again with Lawler walking away with championship belt. But this time, Lawler put Smith away after seeing his own blood and realizing he could be in trouble.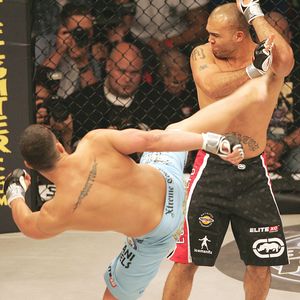 The EliteXC middle weight champ immediately turned the tide on Smith using the clinch to launch a series of knees to the body, which caused Smith to fall in pain, and soon after be finished by Lawler with a second-round TKO.
Midwest Cage Championship Weigh-Ins At The Twisted Parrot
Fight festivities for MCC 15 Lights Out! began with the MCC Official Weigh-In on Thursday, July 24 at the Twisted Parrot at 6500 Hickman Road in Urbandale. Along with great food and drink specials, including half price pizzas and $2 domestic beers, free samples and prizes were be provided to those in attendance. Fans got a chance to meet and greet their favorite fighters and get up close and personal with the lovely Midwest Cage Championship ring girls.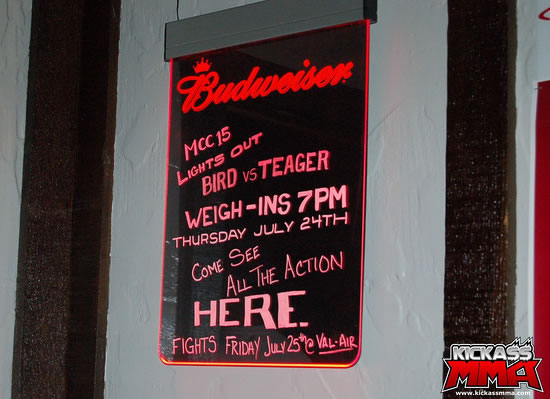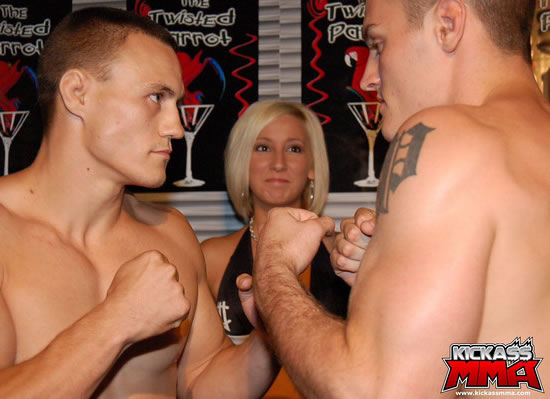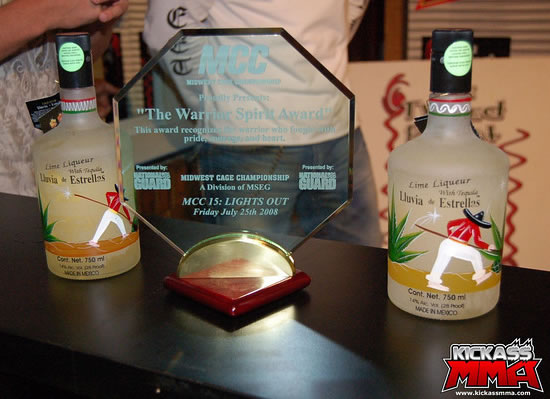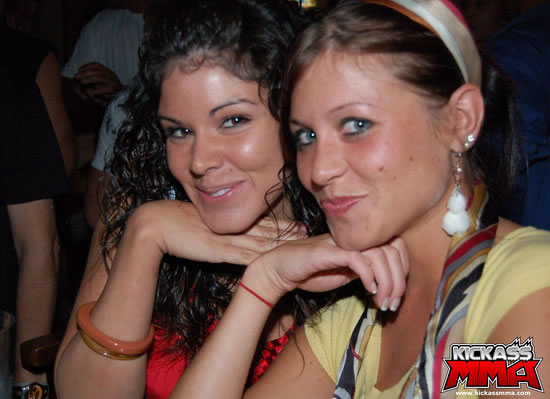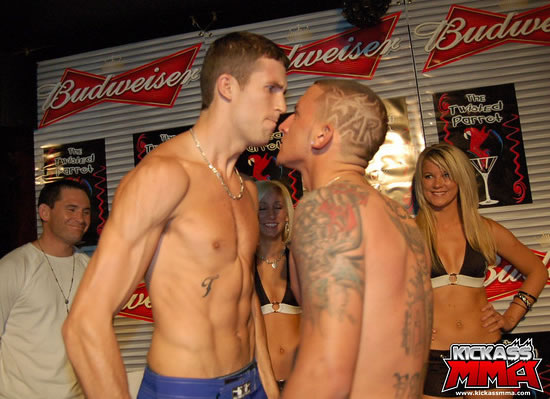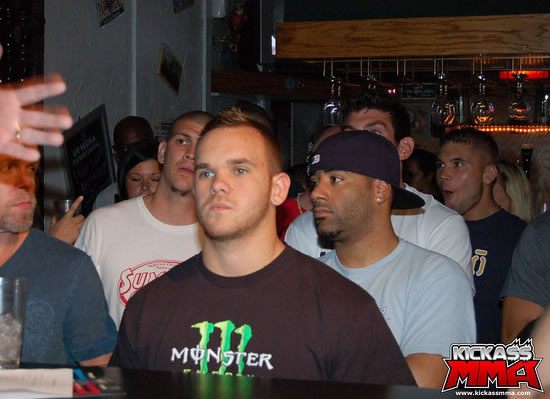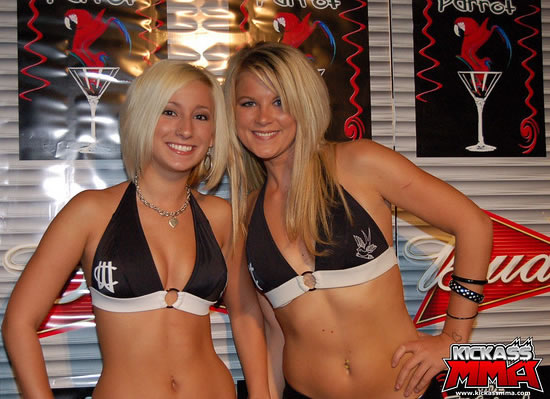 Paul Bird vs Bryce Teager
Mark your calendars and set your plans to attend MCC 15: Lights Out! this Friday, July 24. Ten pro mixed martial arts (MMA) bouts include an exciting light weight fight between Paul Bird and Bryce Teager that determines who leaves with the vacant MCC title belt.
Friday's MCC 15 event will be filmed and broadcast in its entirety on later dates on Mediacom Connections Channel 22. Highlights of the event will be featured on HD-Nets Inside MMA weekly news and talk program. MCC's own Scott Casber will guest co-host an upcoming Inside MMA episode when he's joined by special guest UFC World Champion Georges St. Pierre.
Robbie Lawler vs Scott Smith on CBS
EliteXC will make a second stab at prime time mixed martial arts fighting on July 26 when Robbie Lawler faces Scott Smith for the second time in less than two months. The first meeting between the two fighters, which happened on EliteXC's May 31 debut on CBS, was ruled a no contest after Lawler accidentally poked Smith in the eye.
This time EliteXC doesn't have Kimbo Slice and thus, the buzz from EliteXC 01 has subsided and the attention has been spread thin, making it an even better test case for MMA's future on network TV. If the event bombs, EliteXC, will have a much tougher time riding out the year.
Fedor Emelianenko pwns Tim Sylvia
Over the weekend I watched the Affliction: Banned pay-per-view. I was originally planning on attending this event and had found some cheap Affliction tickets to buy, but had to settle for my living room this time. Affliction says this event was put together after the UFC banned all Affliction brand clothing from their events. Common sense says different.
Anderson "The Spider" Silva vs James "The Sandman" Irvin
Current UFC Middleweight Champion Anderson "The Spider" Silva makes his Light Heavyweight debut on Saturday, July 19 FREE on Spike TV. What do you do if you cream everyone at your weight division? Relax and take it easy, enjoying the life of an MMA rock star? Not if you're Anderson Silva. He's decided to move up a weight class, possibly on a quest to prove he truly is the greatest pound for pound fighter in the world.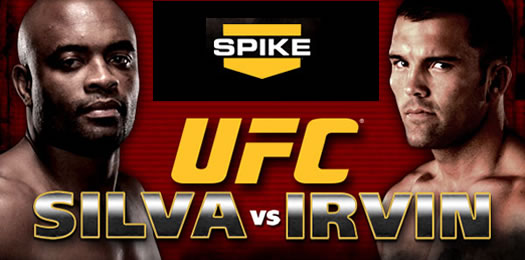 Pics from MMA Event in Marshalltown, IA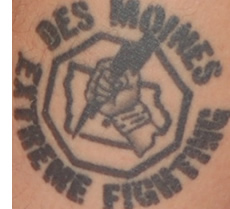 7/16/08 - Finally... after some computer issues the past few days the Marshalltown MMA photos from the Amateur MMA event in Marshalltown, IA on Saturday, July 13 are now available for your viewing pleasure. Thanks Ronnie and Vern for the invite and thanks to the fighters for the great fights! I had a great time and hope to see you all again soon.
KickAssMMA.com is a fairly new venture, so check back often for more great mma pics, mma videos and more of everything mma coming in the near future. If you know anyone who was at the event on Saturday or is an mma fan, let them know about KickAssMMA.com!
Forrest Griffin defeats Rampage Jackson at UFC 86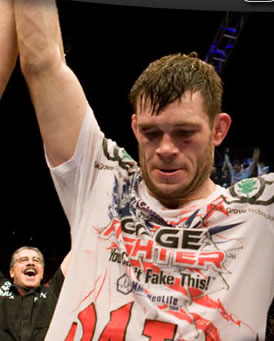 Just over three years ago Forrest Griffin was sleeping on a friends couch and didn't have medical insurance, although he made a living as a fighter. Now, he is the UFC Light Heavyweight Champion after claiming a unanimous five round decision over Quintin "Rampage" Jackson at UFC 86.
In front of a sold out Mandalay Bay Events Center in Las Vegas, NV, Griffin overcame a shaky first round by exploding in the opening moments of the second round with two leg kicks that connected to Jackson's left knee and thigh respectively. Jackson buckled and Forrest pounced, taking down, mounting and ground and pounding Rampage for most of round 2.