Fantasy UFC For Cash
Today you can join real money fantasy MMA contests and win real cash. In 2016 the daily fantasy sports industry has embraced fantasy UFC. Join me this week in a legal, legit and honest fantasy MMA contest. They run virtually all year long.
KickAssMMA.com is here to show new players where to join, how to play fantasy MMA, and how it all works. Plus our articles will help you make sure you know exactly what you are getting into before you play fantasy MMA for real money.
The best part, fantasy MMA is 100% legal in the US and Canada. *A few states are excluded due to state law.
How To Play Fantasy MMA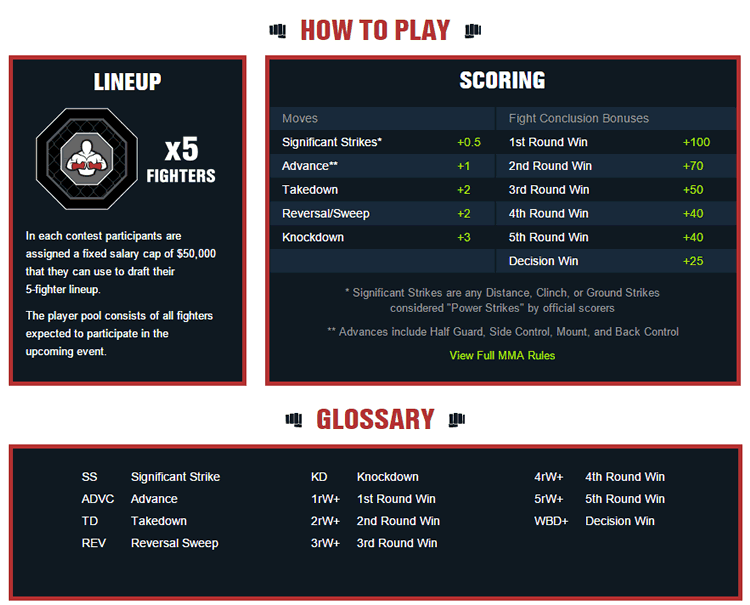 You draft 5 fighters and score points based on how they do in their respective fights.
You are looking to pick 5 fighters who will score you the most possible fantasy points. If you are familiar with fantasy football or baseball the idea is exactly the same.
The better your fighters do in the cage, the better you do (generally speaking).
Fantasy MMA is young. Very young.
Strategies are being developed and shared and we will link to them as we find them. We are not MMA experts or professional fantasy sports players although we have been playing on DraftKings for two years.
Where To Play – Getting Started – Which Leagues To Join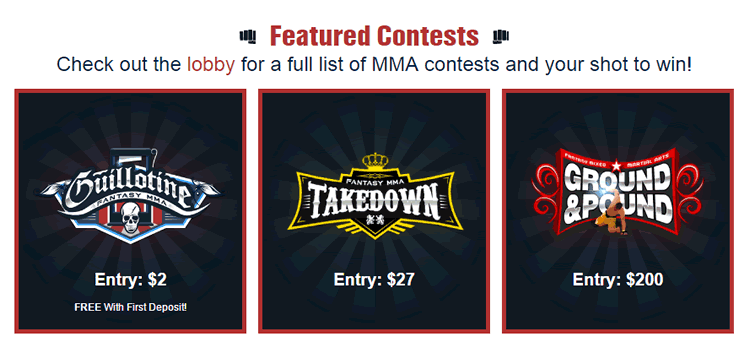 The only fantasy MMA site I recommend is DraftKings (MMA review coming soon). It is where I play daily and weekly style fantasy sports. They are legal, legit and are currently the 2nd largest daily fantasy site, behind giant FanDuel. (see here).
Is It For Real Money?
Yes, you risk, win and lose real money. There are free contests to play as well if you just want to try it out. If you sign up for our free ebook I will also email you whenever we get an exclusive free contest. In 2015 readers have been able to play in over $16,000 worth of free contests so far this year.
Fantasy sports legal because they were specifically carved out of the UIGEA (the unlawful internet gambling enforcement act). They are classified as a game of skill. This means you can play.
Deposit lightning fast with credit cards or paypal.
Cash out just as fast.
How It Works
Contests start and finish in one night. In one night actually, as UFC is usually on late at night.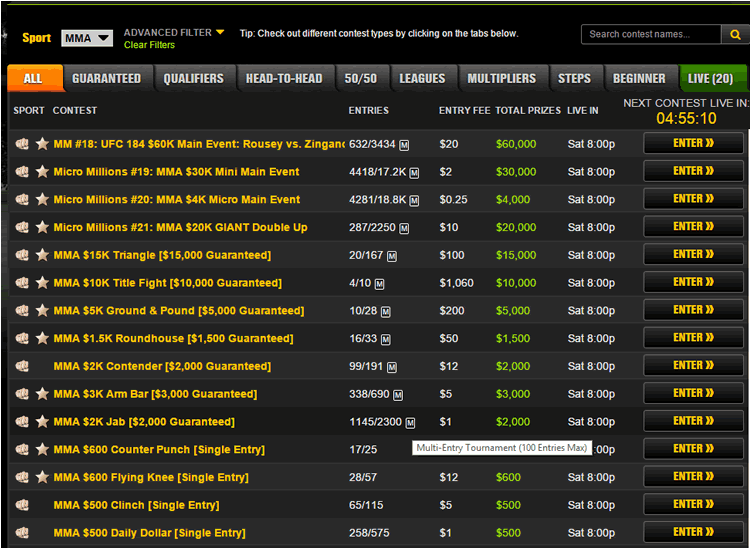 Anyway, contests begin with the first fight on the card and end with the last fight on the card. You play, win or lose and get paid all within that short time frame.
Here is what you do.
Find a contest you want to enter. They start at $0.25 and go up from there. They also go from head to head competitions, to 3 man leagues, to 5 and 10 man leagues up to the big field contests with thousands of players.
Pick one you want. Start small.
You can click on the contest name to see more info.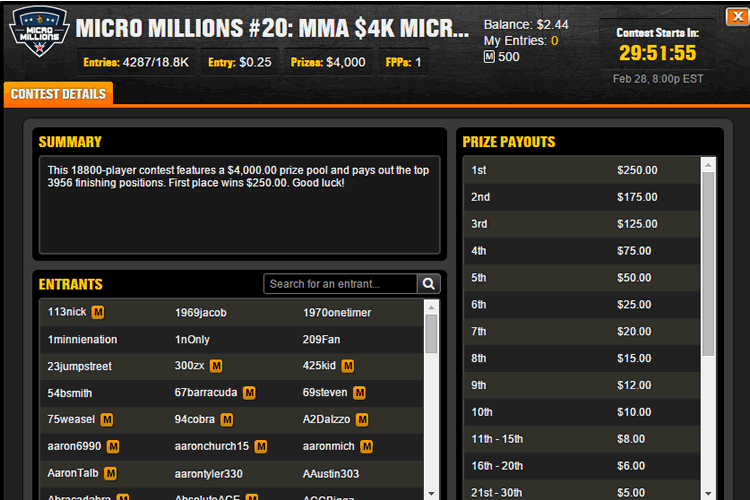 You can see the prize payouts along the right hand side. You can see how many entries, how much it costs (only $0.25) and the prize pool. You can also see an up to date list of current entries.
If you want to play, click the 'Draft Team button at the bottom of the screen.
Drafting Your Team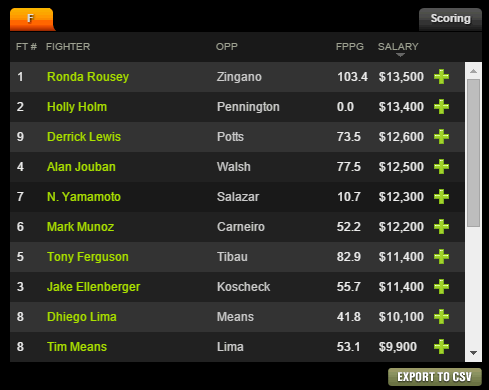 You have to pick five (5) fighters to be on your team.
The challenge is that you have a salary cap you MUST stay under.
You get $50,000 salary cap to draft your team with.
The "kickass" fighters cost well over $10,000, as you can see.
The skill part comes in when you build the ideal line-up that scores the most points based on the rules above while staying under the $50,000 you can spend.
Think of yourself as the general manager of a baseball team, except for some reason you are choosing MMA fighters to build a team with based on the scoring rules. Your job is to put together the best 5 players on your team but you have a limited budget to do so.
Once you are content with your five fighters you can enter that team into the contest. This is where you confirm your entry and actually have the money taken from your account and your line-up entered in the contest.
You can edit your line-up at any point up until the first fight begins.
Scores update on the leaderboard as the fights progress. You watch yourself rise and fall against the competition as the fighters from your matches compete.
At the conclusion of the last fight, and after the official stats are in the scores are finalized and payouts are made. It's over in hours. Losers lose and winners get paid.
That's fantasy UFC in a nutshell.
Draft a team. They score points. Your points add up and compare against everyone else who entered the same contest as you. The highest points scorers win the money. The others lose.
It is risky. Know this up front. Many of my friends say straight out that this is essentially "legal UFC betting". While I understand what they are saying, at least as far as the law is concerned then there is nothing illegal happening.
That's why Visa and Mastercard work for quick and easy deposits. You can also use paypal. If the sites take those kind of payment options you know it has to be on the up and up.
Learn More About Fantasy MMA
Here is a growing list of links and resources for the aspiring MMA fantasy player.
Vegas Odds for UFC Fights – Link to Bovada's MMA lines and odds
DraftKings MMA review – This is where I play fantasy MMA
BloodyElbow – You probably already know of this site but it is packed full of MMA news and views
The Fantasy MMA Blog Here – links to all the content posted where you can read through whatever you want.
If you are ready to play: Sign up at DraftKings Get a free entry into the $3 MMA contest contest with your first deposit. It's a huge MMA tournament and a great one to play in for a few bucks each week.