Ultimate Fighter 7 - Team Rampage vs Team Forrest
The Ultimate Fighter 7 finale features a great final fight between Amir Sadollah and CB Dalloway along with a huge 3 hour live broadcast on Spike TV! The feature bout pits Kendall "Da Spyder" Grove against former middleweight champion Evan Tanner with other fights featuring Ultimate Fighter 1 winner Diego "Nightmare" Sanchez, Spencer "The King" Fisher, Luigi Fioravanti and Jeremy 'Lil Heathen' Stephens.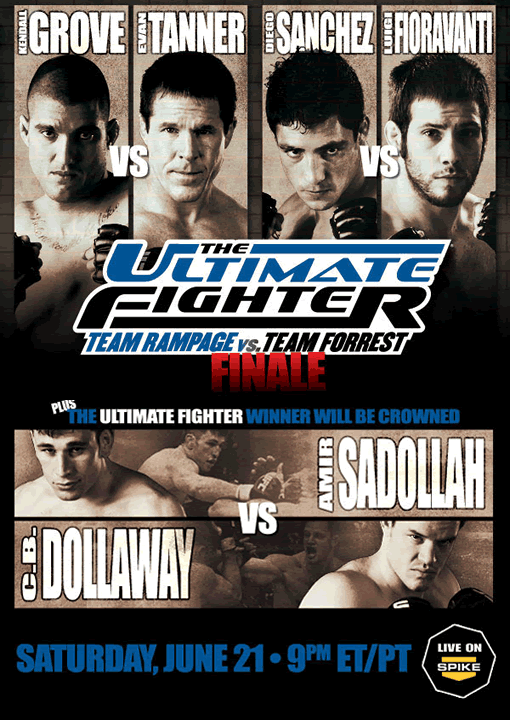 Midwest Cage Championship 14: Fight Results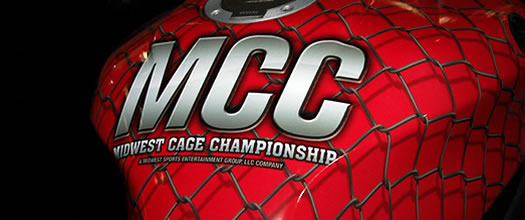 MCC Middleweight Title Fight
Joe Vedepo (9-0) defeats Brian Green (17-8) to become the new MCC middleweight champion.

MCC Welterweight Title Fight
Bobby Voelker (18-4) defeats Ryan Braun (7-4) to retain the MCC welterweight championship.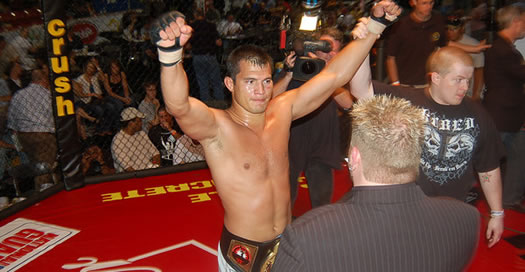 Other fight results (winners in bold):
Alex Harper vs Jeff Carstens
Matt Scaggs vs Mike Van Meer
Steve Lawrence vs Jake Brown
Bryant Reynolds vs Thad England
Richard White vs Fernando Sheeler
Chris Perez vs Tony Hoadley
Colby Karaidos vs Ryan Langmaid
Midwest Cage Championship 14: Pride or Fate
MCC14 this Saturday night, June the 14th at KGGO/Bucs Arena. Doors open at 6:30 pm. Fights start at 7:30 pm.
Joe Vepedo vs Brian Green (Middleweight Title Fight)
Ryan Braun vs Bobby Voelker (Welterweight Title Fight)
Alex Harper vs Jeff Carstens
Matt Scaggs vs Mike Van Meer
Steve Lawrence vs Jake Brown
Thiago Alves defeats Matt Hughes at UFC 85 Bedlam
After Thiago "Pitbull" Alves weighed in at 174 lbs, failing to make the 170 lb limit, Matt Hughes said it didn't matter and the fight would continue on as planned. So Alves, who looked to be a good 10 lbs heavier than Hughes at fight time, used devastating knees in the 2nd round to stop Matt and claim the victory.
Alves begged Dana White for a title fight, but failing to make weight didn't gain any points with White. If you know Dana, his biggest piss-point is a guy who doesn't make weight. We'll monitor the situation as it plays out.
Matt Hughes vs Thiago Alves
Two-time UFC welterweight champion Matt Hughes begins his run for an unprecedented third title at UFC 85 Bedlam on Saturday, June 7, live from the O2 Arena in London, England. Hughes fights young gun, Brazilian slugger Thiago "Pitbull" Alves, who is hungry and looks to take his place at the top of the 170 lb division.
Be sure to check out the UFC 85 fight card that includes fighters Michael "The Count" Bisping, Brandon "The Truth" Vera, Fabricio "Vai Cavalo" Werdum, Mike "Quick" Swick, and Marcus "The Irish Hand Grenade" Davis.
Rewind the tape on Urijah Faber vs Jens Pulver
After re-watching the Urijah Faber vs. Jens Pulver WEC Championship fight, it was clear Faber won all 5 rounds, as it was clear the first time I watched the fight. He controlled both the stand-up,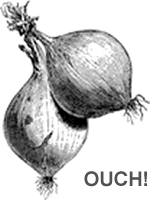 with his lightning quick jabs and the ground with his deadly ground and pound.
I wamted to watched the fight again to review some of the things I listed in my post fight analysis, basically questioning why the illegal blows (my perception) from Faber against Pulver weren't called and/or points weren't taken. Here are some of the infractions I thought I saw after watching the fight the first time live on VS:
World Extreme Cagefighting MMA Fight Results
What a great night of fights for the WEC. Urijah Faber and Miguel Torres successfully defended their WEC title belts in two of the most exciting fights in recent memory. Winners in bold.
Jens Pulver vs. Urijah Faber
Yoshiro Maeda vs. Miguel Angel Torres
Chuck Grigsby vs. Mark Munoz
Kenneth Alexander vs. Rob McCullough
I bet on Jens Pulver to win the WEC 145 lb title...
I'm putting it all on the line tonight...$12.03 on Pulver. He's a definite underdog according to the mma lines, but not that big of a dog in the cage. He has the advantage in many areas including stand-up, experience and size. Plus he's a very good wrestler.
But the current champ "The California Kid" Urijah Faber is a warrior and if he can control the grappling and keep Pulver on his back, he has a great chance to hang onto the belt. If not, 'Lil Evil' leaves with the new WEC champion.