Mixed Martial Arts Fighter Profiles
Mixed Martial arts has becoming an ever so popular sport and the big name fighters are the reason the sport has been so widely accepted by mainstream media.
Find Any MMA Fighter Profile
————————-
MMA Fighter: Randy Couture
Randy Couture is a pioneer of MMA and UFC, and is one of the most influential fighters in the history of MMA.  Randy was an incredible wrestler in his youth and  after having over 25 years of freestyle and Greco-Roman wrestling experience, it is no suprise that Couture uses a  "ground and pound" style of MMA fighting.  Randy Couture first entered the UFC in 1997 at the age of 33 and  is a  former Heavyweight and Light Heavyweight champion. Couture is one of only two UFC fighters to have held a UFC championship title in two different divisions (heavyweight and light heavyweight) , as well as the only five-time champion in UFC history.
MMA Fighter: Rashad Evans
Rashad Evans is one of the newer stars of the UFC, having only been in the UFC for 3 years.  In 2005, Evans won the Heavyweight division of the Ultimate Fighter season 2 and the rest is history.  Rashad is an excellent wrestler and a great boxer, having heavy hands and incredible knock out power. Rashad dropped down to the Light Heavyweight class after the TUF show and is now a  former UFC Light Heavyweight Champion.  He lost his title belt at UFC 98 to Lyoto Machida.
MMA Fighter: Urijah Faber
Urijah Faber is one of the most entertaining fighters in all of MMA.  He is one of the most well rounded fighters in all of MMA, he is a great striker and has no problems on the mat as well.  Urijah made his MMA debut in 2003 and has been rolling over opponents ever since.  He is a former Gladiator and King of the Cage Bantamweight Champion. Faber won the WEC Featherweight Title in 2006 and defended his title for over 2 years untill he finally lost it to Mike Brown, after going 3 full  rounds with a broken hand.
MMA Fighter: Kenny Florian
Kenny Florian is a product of the Ultimate Fighter seasons 1, 2 and 3 and made his MMA debut in 2003.  Florian's preferred fighting style is Brazilian Jui Jitsu and Muay Thai, and he is well known around the league for his vicious elbow strikes. Kenny gained popularity after winning a number of fights against elite UFC Lightweights, and he got his first UFC title shot in 2006, where he lost to Sean Sherk.  He is the Ultimate Fighter 2, and 3 Champion, and gets his second UFC title shot at UFC 101, where he will face BJ Penn.
MMA Fighter: Matt Hughes
Matt Hughes is one of UFC and MMA's household names.  As a two time all american wrestler, it is easy to conclude that his preferred fighting style is wrestling.   Matt won his first UFC Welterweight title belt in 2001, when he submitted Carlos Newton.  Hughes is a two time former UFC Welterweight champion and he defended his belt 7 times as a Welterweight champion. He successfully defended his title belt for nearly two years, until Georges St. Pierre defeated Hughes in 2006.

MMA Fighter: Quinton Jackson
Quinton "Rampage" Jackson is a dominant fighter, and one of UFC's best Light Heavyweight stars.  His preferred fighting style is boxing, and wrestling.  One of his signature moves is slamming opponents on the mat and finishing with ground and pound.  Jackson started his MMA career in the Pride Fighting organization, where he dominated his competition.  In 2006, Jackson entered the UFC, and has been a contender for the Light Heavyweight belt ever since.  Quinton is a former Pride middleweight champion and Ufc Light Heavy weight champion.  He was one a very few MMA fighters to hold both title belts for the UFC and Pride organizations.
MMA Fighter: Brock Lesnar
Brock Lesnar is one of MMA and UFC's newest stars, and he has catapulted himself to the top of the UFC Heavyweight division after only a handful of fights.  While he is not technically savvy as a mixed martial artists, he makes up for it with his sheer size and physical strength.  Brock's preferred fighting style is wrestling, as he is very skilled at the ground and pound game.  He is a former WWE professional wrestler and All-American collegiate wrestler.  He made his UFC debut in 2007 and won the UFC Heavyweight title belt in 2008, when he defeated Randy Couture.  He defended his Heavyweight belt at UFC 100, when he won the rematch between the two with ease.
MMA Fighter: Chuck Liddell
Chuck Liddell is one of a select few UFC fighters to be inducted into the UFC Hall of Fame, and is credited for bringing mixed martial arts into the mainstream of American sports and entertainment. Liddell has an extensive background in Kempo Karate,  kickboxing and collegiate wrestling. He is a stand up fighter and loves to end fights with his vicious striking power.  Liddell is a former UFC Light Heavyweight champion, and is well-known for his historical fights with Randy Couture and Tito Ortiz.
MMA Fighter: Lyoto Machida
Lyoto Machida is a fairly new fighter to the UFC, yet he has wasted no time in proving his dominance.  As of June 2009[update], Machida is undefeated in his professional MMA career, and has yet to lose a single round in his UFC career.  He is currently ranked as the #1 light-heavyweight fighter in the world and the #4 pound-for-pound fighter by Sherdog. The southpaw Brazilian is a very well rounded fighter, as he is a great striker, and a Brazilian Jui Jitsu master.  Machida beat the undefeated Rashad Evans at UFC 98 to stake claim to the UFC Light Heavyweight title.
MMA Fighter: B.J. Penn
B.J. Penn is one of the best Lightweight MMA fighter in the world.  He has absolutely dominated the UFC Lightweight division and has even moved up weight classes to fight stronger competition.  His preferred fighting style is BJJ but is also a great striker.  With only three years of training in Jui Jitsu, he became the first non-Brazilian to win the black-belt division of the World Jiu-Jitsu Championship held in Rio de Janeiro, Brazil in 2000.  Penn made his MMA  debut with the UFC on May 24, 2001 when he beat Joey Gilbert at UFC 31 .  He is a former Lightweight and Welterweight UFC champion and current UFC Lightweight champion as of July 2009.
MMA Fighter: Georges St. Pierre
Georges St. Pierre, often referred to as GSP, is a Canadian mixed martial artists who is arguably the most well rounded fighter in the world.  GSP has a black belt in both Kyokushin Karate, and Brazilian Jui Jitsu, and has amazing boxing, and wrestleing skills.  He is currently ranked # 1 in the UFC Welterweight division and is considered one of the very best pound for pound fighters the sport has ever seen.  St. Pierre defeated Karo Parisyan in his UFC debut at UFC 46.  GSP is a former two time UFC Welterweight Champion and has defended his title numerous times.  Georges is the current UFC Welterweight champion as of July 2009.
MMA Fighter: Kimbo Slice
Kevin Ferguson, better known as Kimbo Slice, made himself extremely popular with his street fighting videos.  In 2007, Kimbo took his street fighting skills to the cage when he signed with EliteXC fighting company. He won his first three matches handily, by knocking out all three fighters.  In his fourth ever MMA fight, Kimbo was finally defeated by Seth Petruzelli just 14 seconds into round one.  The Bahamian fighter's preferred fighting style is boxing with an emphasis on street fighting.  He is set to be a main competitor in the Ultimate Fighter 10: Heavyweights season coming soon.
Personal websites and profiles from MMA Fighters.
MMA Fighter Photos
UFC and MCC Fighter Jeremy "Lil' Heathen" Stephens of Des Moines, IA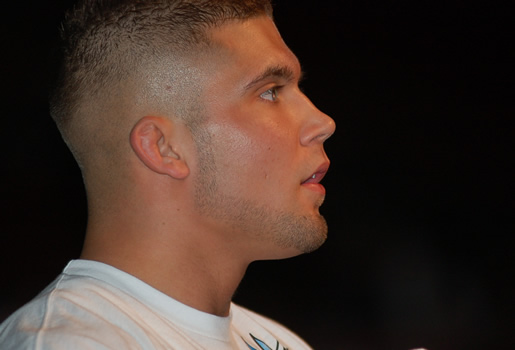 UFC and MCC Fighter John Halverson of Des Moines, IA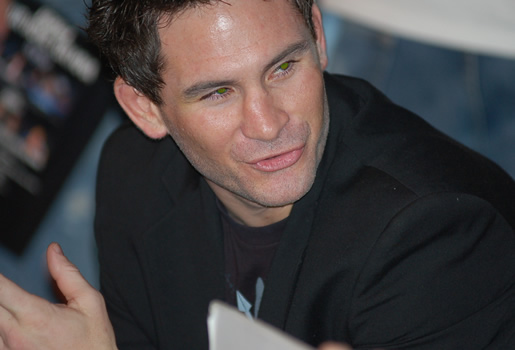 WEC and MCC Fighter Chuck "The Reverend" Grigsby