MMA and UFC Girls – MMA Ring Girl Pics, Info & More!
If you're a fan of MMA, you've probably noticed (if you're a guy anyways) all the beautiful MMA girls who are involved in and attend this great sport which is Mixed Martial Arts. I love the MMA fights, but also enjoy looking at all the sexy MMA – UFC girls. Check out these pics we took of MMA babes and ring girls at the various events we've recently attended:
UFC Ring Girl – Arianny
Arianny Celeste, a sexy Latina from Las Vegas, became a UFC Octagon girl after a UFC ring girl casting at the Hard Rock Hotel in 2006. Since then, this young bombshell has become a well-known face in both the MMA scene and the modeling world. In her spare time, Arianny loves singing, working out and shopping. Her turn on? A funny guy who has a great smile…if it were only that easy. To see if Arianny is all that her pictures portray you need to purchase ufc fight tickets. We can help you get your own MMA Tickets to check Arianny out in person! See Arianny Celeste UFC ring girl naked!
UFC Ring Girl – Chandella
Chandella, a gracious personality and down-to-earth persona make Chandella irresistable!  Not only are her looks easy on the eyes but her personality is fabulous!  When she's not in the octagon she is working her magic in the Playboy Club at the Palms or chillaxin' with a good movie! Don't try one of your best pick up lines on this "Chocolate Bunny" or you'll find yourself without your drink or phone standing in a time-out!  (Although I may have to see what other discipline measures she's willing to try)!  ;0)
UFC Girl – Edith

This gorgeous, robust ring girl is originally from Montreal, Canada. UFC Ring Girl Edith has been a big deal in the MMA and UFC world for a while now, and if you haven't seen her before I don't know what events you've been watching. Edith is no longer with the UFC after an unexpected absence at the UFC 100 weigh-ins in July. Nevertheless, Edith will still always be one of our favorite ufc ring girls to drool over in between rounds. I saw her up close at UFC 87 and have plenty of photos to prove it. Check out Edith's profile page by clicking on the link above or her picture to the left.
UFC Girl – Rachelle

Rachelle is a Cali native who was hired as a UFC Octagon girl after her photo was seen on a boxing site. Being a model since 16, this hot chick has been featured on (and even hosted)  TV shows like Carson Daily, Inside The UFC, and The Ultimate Fighter! She's also been known for her pics in Playboy, Men's Fitness and Maxim! Even better, you can even catch Rachelle everyday on Spike TV as the super sexy host of UFC All Access.
UFC Girl – Logan

Logan is no longer with UFC but at 20 years old and 5 '10" tall is not one to ever be overlooked! With legs like no other, this chick's love for the outdoors shows and she's known for being the tomboy of the group. She models when out of the ring, and enjoys activities like kayaking, beach sports, and hiking…and it gets better, her favorite show is Family Guy! Known for her good looks and sense of humor, Logan is one  ufc ring card girl that will be missed at UFC events.
UFC Ring Girl – Brittney

Brittney, native of San Diego, has returned to California to attend an art school in Los Angeles. This free-spirited, girl next door is passionate about painting, modeling, being a professional dancer and a ufc ring card girl. Even though Brittney is no longer with the UFC that doesn't stop us from drooling over her! You'll find her spending her free time jumping from airplanes, cresting waves, or hitting the slopes!

UFC Girl – Holly Madison
Holly Madison, yes- from The Girl's Next Door, filled in at the UFC 100 event as one of the ufc ring girls!  It was a great opportunity for her to show her support of a sport she loves!  "It's been a dream of mine since becoming a fan of the UFC and watching the incredible athleticism of the fighters to do the honors of being an octagon girl for a night," Madison stated.

MMA Fighter – Gina Carano
Beautiful, energetic and a natural athlete.  That sums up Gina Carano – a rising MMA fighter.  This middle child Texas native uses her Muay Thai skills to defeat her opponents in the ring.  She possesses one of the best records in the mma field.  For three years she held an undefeated record causing those of us to fall in love with her!  Since her announcement to return to mma fighting back in February 2011 her fans have been waiting patiently to see her back at it in the octagon! Check out MMA Training to learn how to enhance your own mma workouts!
MMA Girl – Melanie

As a mma ring girl for MaxFights DM, Melanie is known as the leader of the girls. At 25 years old, this sexy MMA ring girl is a Des Moines, Iowa native who works at a leading financial company when not in the ring. However, her true goal is to work full time in the modeling, advertising and acting fields — which looks promising, since Melanie has just been named the spokes model for All Over Media (MaxFights sponsor).
MMA Girl – Ashley

Ashley, a 23 year old avid MMA fan from Des Moines, decided to become a MaxFights DM ring girl so that she could become more involved in the MMA scene. Along with being a the only brunette ring girl in this threesome, Ashley is also a professional nanny who takes part in various modeling, advertising and promotional activities (nightclubs, etc) during her spare time. Professional nanny? Now that's HOT.
MMA Girl – Jacki

Jacki is a fun and hot 22 year old MaxFights DM ring girl who's been featured in many famous campaigns — including Maxim's "Hometown Hotties" and even Slipknot's "Dead Memories" music video (rock on)! Jacki is also known for her hip hop dancing skills, "girly girl" ways and passionate personality — People have said that whatever she does, you can bet she's having fun doing it.
If you think MMA girls are hot, you might also want to check out profiles of hot women and pictures of pretty girls playing on the poker circuit from websites like Pokerlistings.com!
More MMA Girls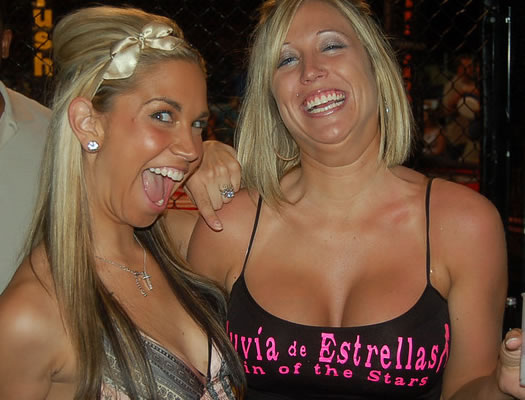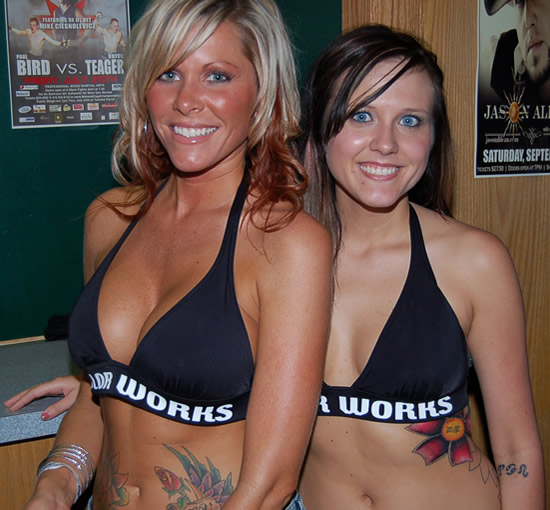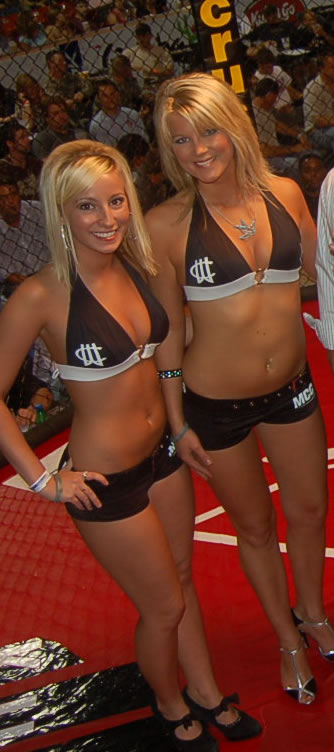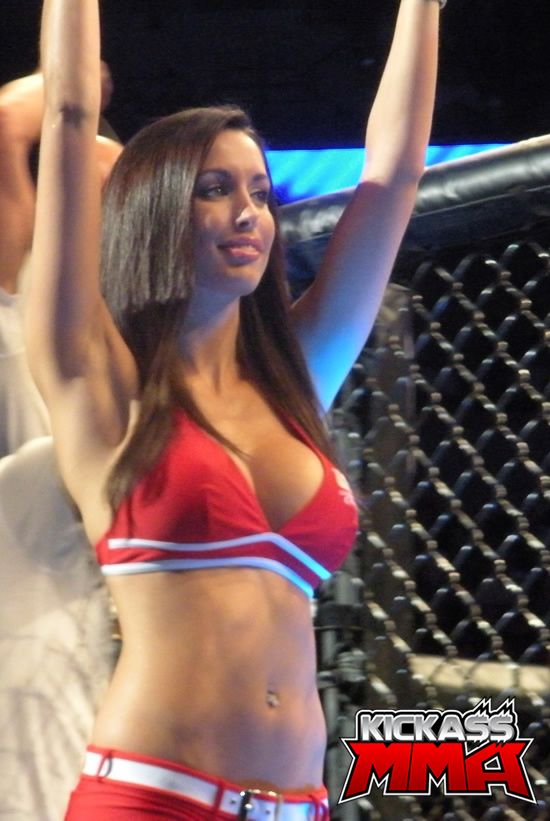 For those of you who are searching for hot mma girls, sexy mma girls, or any ufc octagon girls you have come to the right spot! If you are in search of naked mma girls, naked mma ring girls, or even naked ring card girls we will keep our eyes peeled.  We will snap a pic or two before slipping on our drool and post them immediately!  Keep checkin our site!  Check out our hot MMA Babes!
Show your support by wearing your favorite MMA gear
| | |
| --- | --- |
| Dethrone Show Em Love T Shirt | Throwdown Havoc Walkout T Shirt |