UFC 100 Results, Photos, and Videos
UFC 100 anniversary was a huge success.  All of the fights on the card were very entertaining, hard fought battles that the fans of MMA love to see.  We saw up-and-comer Jon "Bones" Jones improve upon his perfect record, and further solidify his place in the UFC. If Jones keeps this up, he could be eyeing a title shot in the near future.  We saw the TUF Season 9 coaches collide in the ring as Dan Henderson put Michael Bisping in his place with what was arguably one of the best knock out punches ever. We saw GSP once again prove that he is the king of the Welterweight division and further secure his spot as one of the toughest pound for pound fighters in the world. We saw Brock Lesner prove any critics wrong as he absolutely pummeled Frank Mir. And who can forget his rediculous post fight antics.  Come on Brock, this isn't WWE! Drink a "Coors Light" and chill out!
UFC 100 Photos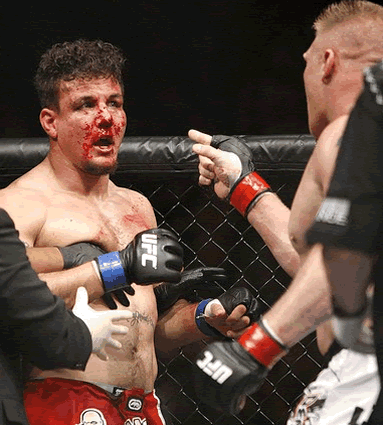 Brock Lesner getting into Frank Mir's face after the fight… I think you already proved your point Brock.

GSP and the "Pitbull" trading blows… GSP with the upper hand

Michael Bisping getting knocked the f*%@ out by Henderson's right hook!
For more pictures visit : LA Times
UFC 100 Results
Fight Results were as follows: ( Winners in bold)
Mandalay Bay Event Center, Las Vegas, NV – Saturday, July 11, 2009
Brock Lesnar vs. Frank Mir – (UFC Heavyweight Title)-   TKO: Round 2, Minute 1
Georges St. Pierre vs. Thiago Alves- (UFC Welterweight Title) –   Unanimous Decision
Jon Fitch vs. Paulo Thiago  –    Unanimous Decision
Dan Henderson vs. Michael Bisping –   KO: Round 2, Minute 3
Yoshihiro Akiyama vs. Alan Belcher –   Split Decision
Mark Coleman vs. Stephan Bonnar –   Unanimous Decision
Dong Hyun Kim vs. TJ Grant –   Unanimous Decision
Jon Jones vs. Jake O'Brien –   Submission (choke)
Mac Danzig vs. Jim Miller – Unanimous Decision
CB Dollaway vs. Tom Lawlor – Submission (choke)
Shannon Gugerty vs. Matt Grice –   Submission (choke)
Links to other UFC 100 related news:
UFC 2009 Undisputed for Xbox and Play Station 3: