MMA Clothing – UFC 100 Shirts
Shop for the MMA clothing that your favorite fighters wore at UFC 100! Below, you will find walk out shirts worn by fighters at UFC 100 on July 11th. Each walk out tee is categorized by fighter, and available for the price that you deserve. Support your favorite fighters by wearing the MMA clothing brands that helped them get to where they are today!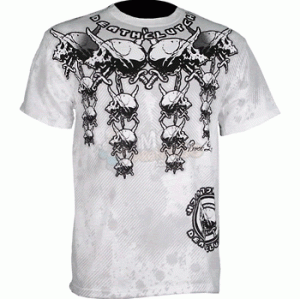 With the Heavyweight Championship belt on the line, this Death Clutch shirt was worn by Brock Lesnar for his UFC 100 fight against Frank Mir (featured below). Show your support by wearing Brock Lesnar's UFC 100 walk out tee by Death Clutch!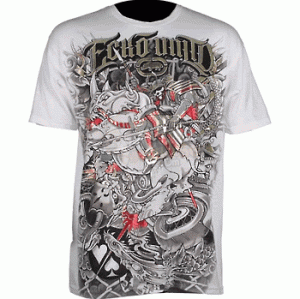 Frank Mir's UFC 100 walk out shirt was worn before his fight against UFC Heavyweight Champ Brock Lesnar (above). Support Frank Mir by wearing his Ecko Unltd. walk out tee!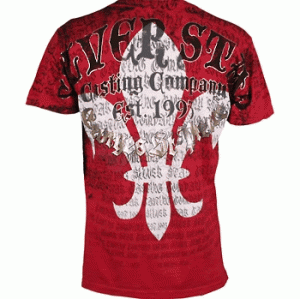 The is the UFC 100 walk out tee that Georges St. Pierre wore before fighting Thiago Alves. Done by Silver Star, this walk out shirt was hard to ignore. Support George St. Pierre by purching his UFC 100 walk out shirt above!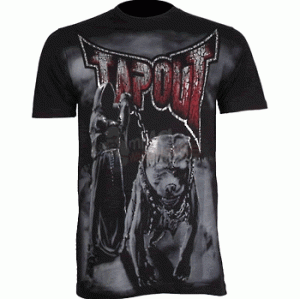 This is the UFC 100 walk out tee that Thiago Alves wore by TapouT. Fighting Georges St. Pierre (mentioned above), this shirt makes its point without saying a word. Show your support for fighter Thiago Alves by wearing his UFC 100 walk out tee!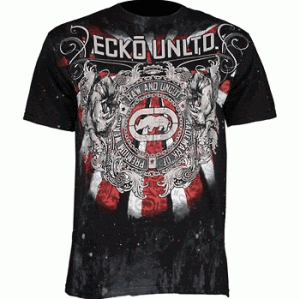 Michael Bisping wore a walk out shirt designed by his one and only, Ecko Unltd. With grafic designs and a dark mineral wash, going head to head with offender Dan Henderson looked even more intense. Support Michael Bisping by wearing his UFC 100 walk out shirt, available above!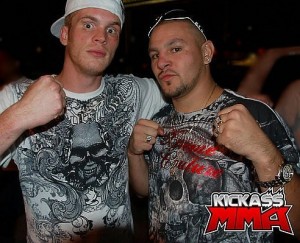 Mixing fashion with passion, MMA clothing is the way to go both at a fight and out on the town. Now that you've browsed the most popular UFC 100 walk out shirts, it's time to get decked out in the latest MMA clothing and apparel!
Visit our Kick Ass MMA Directory to find out even more about the latest MMA  fights, fighters, gear and girls!