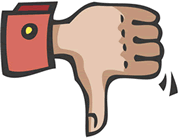 Hmmm… after logging my picks over at the UFC Fantasy sight, it now appears my picks were not logged. I think there may be an issue with Firefox and the UFC sites. I had to use Explorer for UFC on Demand, so that may be it. Oh well, I guess I'll need to watch that next time and get the kickassmma.com UFC Fantasy League setup.
I did get the Pay Per View ordered and had a chance to place my UFC bets at Bodog Life Sports Book.
Check out my fight commentary and random fight thoughts for UFC 84 when the PPV starts at 9:30 pm EST.