Bodog Life Sports Book Review
MMA Bettors Love Bodog Life Sportsbook
Bodog Life (formerly Bodog) is certainly one sportsbook that has a reputation within the mixed martial arts community. After all, founder and former owner of Bodog Life, billionaire Calvin Ayre, liked the sport so much he decided to start his own mixed martial arts promotion and organization, Bodog Fight. The Bodog Fight venture hasn't experienced the huge success that Bodog.com or BodogLife.com has, but it has introduced MMA fans and bettors to Bodog Life's Online Sportsbook, which is the place to bet on MMA and UFC fights.
BodogLife Sports Book Overview
Bodog is one of the biggest sportsbooks out there and offers bets on virtually any mainstream sporting event or game. Luckily, one can still easily find the MMA section upon entering the site by going to "sports" on the menu bar and clicking on "mixed martial arts" on the left hand side. If one wants to bet on anything they simply setup an account which is easily found by the ad at the top practically begging people to signup.
Usability
I found the whole process of getting setup to wager on MMA to be extremely easy at Bodog. I'd say it took me all of about two minutes to get the actual account information filled out. As far as using the site, Bodog includes a few helpful instructions at the top of the page for how the betting works. It's pretty self-explanatory though as the fighters are listed with the moneyline next to each one and a check mark box next to each moneyline. The "open events" and "all events" option at the top just pretty much shows the bets one can actually still make vs. all the bets going on at the time.
Variety of Bets
Bodog Life includes a lot of different options under the bar at the top but most of these like parlay,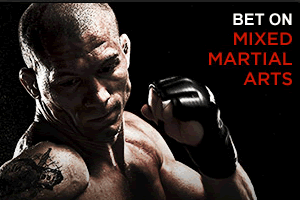 teaser, round robin, etc. only apply to the other sports. The only one that works for MMA is the single bet which is highlighted after checking a box next to a fighter's moneyline. Interestingly, before I went to the MMA section I saw non-link text that says "MMA props". It is not an option at this time, however, it looks like they are actively working on this feature. Check back here in the future for more on MMA prop bets.
Bonuses Offered
The advertisement I mentioned earlier trying to get people to signup for an account pretty much sums up the bonus offer. It says that if one signs up for an account, they get a 10% bonus which is not bad.
Deposits/ Cashouts
There is a decent number of deposit methods offered by Bodog, however, some of these don't apply for US residents (in theory anyways). Transferring funds from a bank account and using a credit card can be used by anyone but Click2Pay, Moneybookers, NETeller, and eWalletXpress are only available for non-US residents. Cashout methods include check by mail, check by courier, and Rapid Transfer. Make your Bodog Life Sportsbook deposit today & get a kick ass bonus!
Pros and Cons
One big plus to using the Bodog sportsbook is the ease of use as even MMA betting novices will find themselves placing bets with little effort. The 10% signup bonus is nice as well and should give some incentive to place bets here. The fact that U.S. customers can wager at Bodog is a positive as well.
On the negative side, the numerous deposit options are only supposed to be available for US residents which leaves Americans with only bank account transfer and credit cards to work with.
Unanimous Decision
Bodog is a great, no hassle free option for those wishing to place bets on MMA action. Beginning bettors will especially appreciate this site.