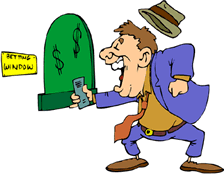 I didn't get my picks logged for the UFC Fantasy pick'em, but I did place some UFC 84 bets over at the Bodog Life.com Sports Books. I waited too long to transfer more mula to my account (too much Guitar Hero today), so I only had $28 and some change to work with.
I decided to bet the house and placed the following bets:
BJ Penn over Sean Sherk – Bet $8.01 to win $3.08
Tito Ortiz over Lyoto Machida – Bet $10.00 to win $15.00
Keith Jardine over Wanderlei Silva – Bet $10.00 to win $15.00
In my UFC 84 fight predictions I posted last week, I chose Penn and Jardine to win, but Ortiz to lose. I think this will be a close fight and if Tito is able to take Lyoto down he can pull the small upset. If not, I've always liked Tito as a fighter and because he isn't afraid to say what's on his mind, so maybe if he costs me $10.00 I can see what it's like to be a Tito hater.