Maximum Glory presented by Max FightsDM & Glory Fighting Championship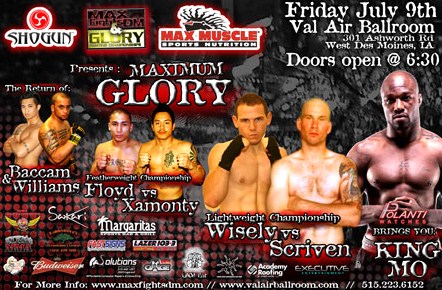 The next MMA event in MaxFightsDM's line-up is the Maximum Glory Fighting Championship. Kicking off July 9th at the Val Air Ballroom in West Des Moines, this 12 bout event features two title bouts, in which Eric "Little Lee" Wisely will battle Lonnie Scriven and Benly Xamonty will go for the title against Brad "Bad Boy" Floyd.
The MaxFightsDM Maximum Glory Fighting Championship has enlisted two popular Iowa media outlets for the event – CityView and TakeDown Radio:
CityView, Central Iowa's free independent weekly newspaper, is the official media sponsor of Maximum Glory and will produce a custom section on the event, its fighters, and the sport of MMA. Publishing for 16 years, Cityview is read by over 70,000 people each week.
"MMA is increasingly growing in mass appeal and we feel it has reached the point where many of our diverse group of readers are interested. Iowa has lead that trend," stated CityView publisher Shane Goodman.
MaxFightsDM/Glory FC is also partnering with Take Down Radio to promote Maximum Glory at the Jordan Creek 20/Century Theatres during the showing of UFC 115 on Saturday, June 12th. People attending the UFC 115 big screen, high definition event will be able to enter to win prizes, including FREE tickets to Maximum Glory.
The UFC 115 main event puts UFC Hall of Famer Chuck "The Ice Man" Liddell against former UFC Middleweight Champion Rich "Ace" Franklin. The event begins at 9PM. People can begin registering to win prizes at 8PM. MaxFightsDM/Glory FC Ring Girls will be on hand to offer their assistance. Full details on the event can be found at www.ufc.com and www.fathomevents.com
TakeDown Radio, the highest rated weekend program on KXNO 1460/Fox Sports, was selected by Cinemark Theaters and Fathom Entertainment to provide promotion for the screening in this market and on a national level. "We're thrilled to bring together TDR Radio and TV, MaxFightsDM/Glory FC, Cityview, and the Jordan Creek 20 to provide a wealth of entertainment and information", offered TDR founder and host, Scott Casber. Casber is also a partner in the MaxFightsDM/Glory FC promotion.
Maximum Glory tickets can be purchased at the Val Air Ballroom box office or through Ticketmaster. VIP tables can be reserved by calling (515) 274-0849. For more information, visit the MaxFightsDM site.