Max Fights DM Ballroom Brawl III Results & Photos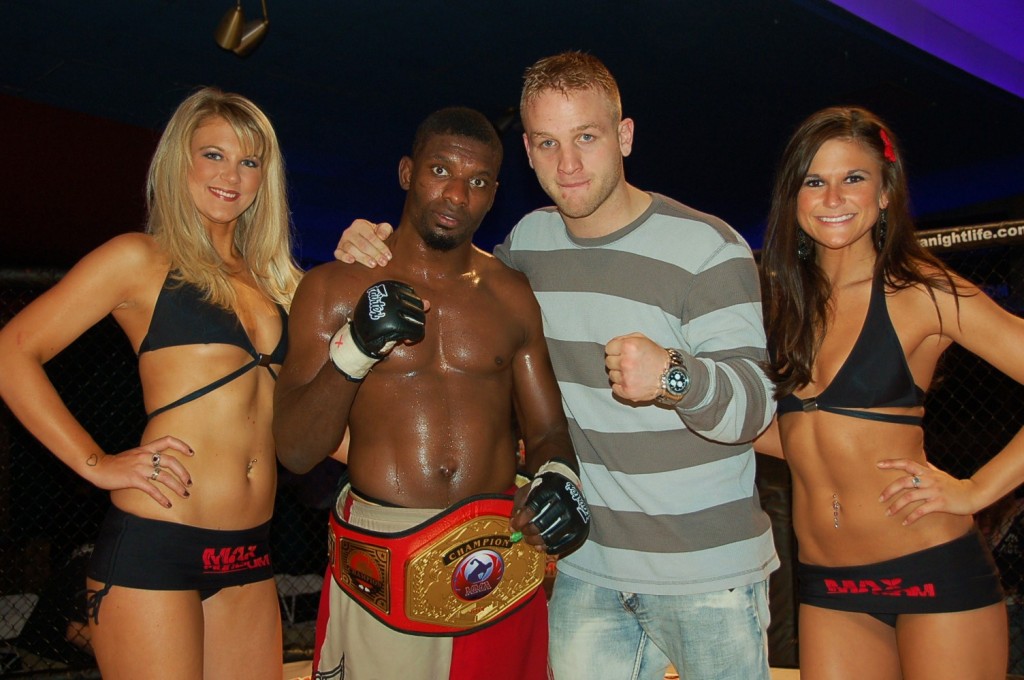 Here, you will find the Ballroom Brawl III fight results. The Max Fights DM third Ballroom Brawl took place Friday, November 13 at the Val Air Ballroom in Des Moines, IA. Bouts 7 and 10 were the highlights of the night, with Rob Roy being named the new MaxFightsDM Lightweight Champion (shown at the right).
Ballroom Brawl III Results
The Ballroom Brawl III fight results are as follows, categorized by bout and weight, with the winner's name in bold:
Bout 1 – 155 lb
Alex White vs. Brody Jay
Bout 2 – 155 lb
Mike Zaricor vs. Josh Booyah
Bout 3 – 185 lb
Eric Irvin vs. Miguel Alderette
Bout 4 – 170 lb
McKenzie Jackson vs. Ben Crowder
Bout 5 – 165 lbs/135 lb
Brad Floyd vs. Andy Selvig
Bout 6 – 165 lb
Cory Simpson vs. Bruce Johnson
Bout 7 – 140 lb
Tim Gorman vs. Jared Downing
Bout 8 – 138 lb
Emily Klinefelter vs. Nataly Jerez
Bout 9, 185 lb
Victor Moreno vs. John Cronk
Bout 10, 155 lb
Ted Worthington vs. Rob Roy
For more Ballroom Brawl III coverage, check out the MaxFightDM website and our Ballroom Brawl III photo gallery.