Silver Star Clothing – MMA Apparel
Silver Star clothing is a cutting-edge and unique MMA clothing brand that is tailored to those who work hard yet play harder. With crazy designs, colors, & details, this MMA apparel never goes by unnoticed. Many MMA fighters are sponsored by Silver Star, including Patrick Cote. Click on the images below to shop discounted Silver Star MMA clothes!
Silver Star MMA Clothing – Men
Silver Star MMA Apparel – Georges St. Pierre
Georges St. Pierre (a.k.a. GSP or "Rush"), who is currently ranked by multiple MMA publications as the number-one welterweight in the world is now sponsored by Affliction.  Check out his Affliction Apparel with us!
Why Wear Silver Star Clothing?
Silver Star clothing includes shirts, outerwear, fleece, jeans, shorts, shoes, & hats.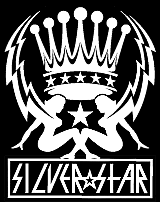 As stated by Silver Star Casting Company's owner, Luke Burrett, "My number
one goal is to have everybody in this industry taken care of. I feel they've been
taken advantage of for quite a while and I want to take care of the fighters."
Sponsoring MMA champs like "Suga" Rashad Evans and Patrick Cote, Silver Star clothing has signature MMA apparel lines designed exclusively for the fighters themselves — as offered by our online affiliateS (available above)!
This year, Silver Star had the priveledge of being named the Fight Expo's official sponsor. The Fight Expo is an MMA and X-Sports competition in San Diego.  As the official sponsor, Silver Star was given props for making the expo affordable and entertaining during these tough economic times.

Oddly enough, we are making the Silver Star clothing brand affordable, yet still entertaining as well!
Get your top of the line Silver Star MMA clothing today, at the discount prices you deserve, with our online retailers MMA Warehouse and eBay (available above)!