UFC 103: Belfort Victorious in Return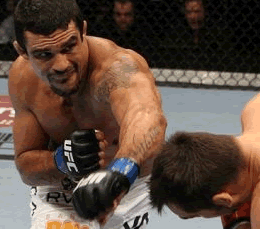 Boy did we ever see fireworks go off at UFC 103, almost every fight on the main card ended in either a knock out or stoppage due to strikes. In front of a packed American Airlines Center in Dallas, Vitor "The Phenom" Belfort made quick work of former middleweight world champ Rich Franklin in his return to the octagon since 2005. The Phenom delivered a devastating left hook that sent Franklin to the mat where Vitor made quick work of him, forcing the referee to call a stoppage to the fight and awarded Belfort with a KO vicotry at the 3 minute mark of round 1. Vitor is riding a 5 fight win streak and is now in line to fight Anderson Silva for the UFC middleweight title belt.
Get a UFC 103 Walk Out T-Shirt
Brand new UFC 103 walk out t-shirts from both Vitor Belfort and Rich Franklin! Get the Rich "The Ace" Franklin Silver Star walk out t-shirt he wore for his UFC 103 main event bout with Belfort. Represent Vitor Belfort with this UFC 103 walk out t-shirt that he wore in route to his KO victory over Rich Franklin!
Dos Santos Beats Up Cro Cop
Fellow Brazilian Junior Dos Santos made his presence in the UFC Heavyweight division well known after he defeated MMA legend Mirko Cro Cop by TKO stoppage in the third round.  The fight was fairly even through the first two rounds, as both fighters exchanged blows. Dos Santos had the clear advantage in the striking department and was able to fend off the infamous head kick from Cro Cop. In the third round, Dos Santos landed a number of strikes that badly damaged Cro Cop's eye and forced Cro Cop to verbally submit, causing the referee to stop the fight and award a TKO stoppage victory to the young knock out artist Junior Dos Santos.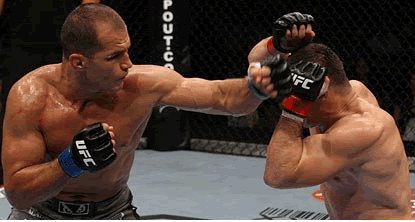 Junior Dos Santos Limited Edition Bad Boy Walk Out Tee
Get a limited time Junior Dos Santos UFC 103T-shirt now! Support young gunner Junior Dos Santos after he tore through Mirko Cro Cop at UFC 103. Only 103 of these Dos Santos walk out tees were printed so get one before they are sold out!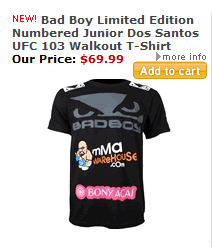 Josh Koscheck Makes Quick Work Of Frank Trigg
Frank Trigg's return to the UFC action was short lived, as Josh Koscheck made quick work of the 37 year old veteran. Koscheck caught Trigg with a brutal right hook and followed his downed opponent to the mat, where he finished Trigg with a barrage of strikes that forced the referee to step in and call the fight. Koscheck won by TKO only 1 and a half minutes into their bout.
Frank Trigg UFC 103 Walk Out T-Shirt
Silver Star Clothing brings you this new Frank Trigg UFC 103 walk out t-shirt. Frank Trigg wore this SilverStar MMA t-shirt when he entered the ring to face Josh Koscheck in a welterweight throw down.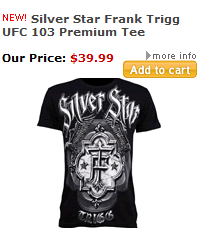 Kampmann Quieted By Brit's Daley
Martin Kampmann looked to make a statement and push for a shot at the Welterweight belt with a victory at UFC 103, but his opponent Paul Daley had other plans for him. Their fight was a short one, as both fighters came out swinging for the fences, and Daley, a power puncher, landed a few shots that hurt Kampmann. Sensing that Kampmann was hurt, Daley began pummeling him and forced Yves Lavigne to step in and call a stop to the action. The decision was controversial, since Kampmann never went to the mat and was never knocked out. Regardless, the referee felt that he couldn't defend himself and made the call, awarding Daley with a TKO victory at the 2:30 mark in the opening round.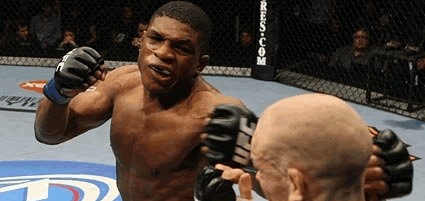 UFC 103 Fight Card Results
Vitor Belfort def. Rich Franklin via KO – Round 1, 3:02
Junior Dos Santos def. Mirko Cro Cop via verbal submission – Round 3, 2:00
Paul Daley def. Martin Kampmann via TKO – Round 1, 2:30
Josh Koscheck def. Frank Trigg via TKO (punches) – Round , 1:25
Tyson Griffin def. Hermes Franca via TKO – Round 2, 3:26
Efrain Escudero def. Cole Miller via KO – Round 1, 3:36
Tomasz Drwal def. Drew McFedries via Submission (rear naked choke) – Round 2, 1:03
Jim Miller def. Steve Lopez via TKO (injury) – Round 2, :48
Nik Lentz def. Rafeallo Oliveira via Unanimous Decision – Round3, 5:00
Rick Story def. Brian Foster via Submission (arm triangle choke) – Round 2, 1:00
Eliot Marshall def. Jason Brilz via Split Decision – Round 3, 5:00
Vladimir Matyushenko def. Igor Pokrajac via Unanimous Decision – Round 3, 5:00
Rafael Dos Anjos def. Robert Emerson via Unanimous Decision – Round 3, 5:00