Georges 'Rush' St. Pierre – MMA Profile
Georges St. Pierre, nicknamed 'Rush' or 'GSP', is a French Canadian professional mixed martial artist and is currently the UFC Welterweight Champion. He is arguably one of the most well rounded MMA fighters in the world and has obtained black belts in both Kyokushin Karate, and Brazilian Jiu Jitsu to go along with his great boxing and wrestling backgrounds as well. Georges St. Pierre is a former two time UFC Welterweight champion, and is the current champion of the UFC welterweight division as of August 2009. Georges is currently ranked the number 1 welterweight fighter in the world and many of the most trusted MMA media outlets have Georges St. Pierre ranked as one of the top two pound for pound fighters in the world. He was named the Canadian Athlete of the Year for 2008 by Rogers Sportsnet, and also named the Most Outstanding Fighter by the Wrestling Observer Newsletter.
St. Pierre Vs. Alves at UFC 100
It was announced that Georges St. Pierre's next fight would be at UFC 100 against the number one contender Brazilian striker Thiago Alves. Alves was considered a serious obstacle for St. Pierre as Thiago had destroyed all of his competition with vicious knock outs on his way to title contention. The fight was very even when both fighters traded punches standing, but St. Pierre's wrestling, takedowns, and ground control proved to be too much for Alves to handle. St. Pierre displayed a wide range of talents as he was able to stand and trade punches effectively and dominated Alves whenever he brought the Brazilian to the ground. St. Pierre won the fight after it went the distance and the judges scored the bout a unanimous decision for St. Pierre, as he successfully defended his welterweight title for the fourth consecutive time. St. Pierre was able to win his match despite suffering a pulled groin muscle in the fourth round of the fight. Georges can be seen in the intermission before the final round tell his cornermen that he had injured his groin; his cornermen told him to suck it up, and if he had to, "hit him with it". On July 18, 2009, it was brought to the public's attention that GSP's groin injury would not require surgery.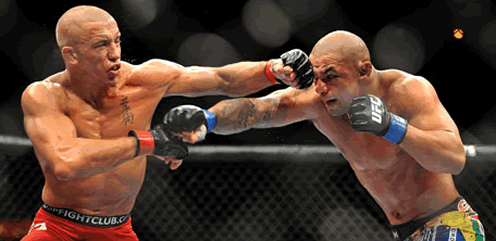 After St. Pierre's victory at UFC 100, Dana White had mentioned that he wanted to set up a match between St. Pierre and middleweight phenom Anderson Silva for sometime in 2010. Despite this rumor, GSP stated in a post fight interview that he was unsure of the move and said he would need a lot of time to gain weight and prepare for such a fight. His next title fight defense will be against the winner of the Mike Swick Vs. Aaron Kampmann fight to see who is the top contender for GSP's title.
Defending The Title
Georges started to train more intensely in Brazilian Jiu Jitsu at Gracie Barra and Nova Uniao schools in Brazil in order to prepare for his title defense against Jon Fitch at UFC 87. At UFC 87, Georges defeated Jon Fitch after the fight went the distance and the judges scored the bout a unanimous decision for St. Pierre as he retained his UFC Welterweight title. Throughout the fight, it was all GSP all the way as he dominated Fitch with better striking and takedowns.
St. Pierre's next fight would be one of the most anticipated rematches in the history of the UFC after B.J. Penn stepped in the octagon after St. Pierre's win at UFC 87 and challenged him to a rematch. The rematch was then scheduled for UFC 94 on January 31, 2009. During the fight, GSP dominated the first four rounds as he used his size and reach to out strike, outwrestle, and ground and pound B.J. throughout the fight. GSP did a lot of damage to Penn and by the end of round four Penn's cornermen were asking if he wanted to continue fighting and Penn was unresponsive, forcing Penn's brother to call the fight. The referee called a stop to the fight and GSP was rewarded with a TKO victory due to corner stoppage.
There was much controversy that arose following the fight as St. Pierre's cornermen were seen rubbing St. Pierre's back immediately after applying vaseline to his face. Members of NSAC entered the octagon and wiped down GSP's body to remove any vaseline and no significant amounts were found. Georges claimed in an interview that the rubbing was part of a routine to line up his energies, and he apologized for the incident. Following the accident, UFC president Dana White said that although he wish it never happened, the incident had no effect on the outcome of the fight.
Purchase GSP Gear Now With MMA Warehouse
GSP and the Undisputed Welterweight Title
The fight for the undisputed Welterweight championship between GSP and Matt Serra was set for UFC 83 and also marked the first UFC event to be held in Canada. In front of a packed Bell Centre in Montreal, GSP delivered an incredible fight. In the first round, GSP started off by taking Serra to the ground and mixing up his attack in order to keep Serra off guard. In the second round, GSP continued with his ground and pound style and forced Serra into a turtle position where he then dropped vicious knees into Serra's midsection. Towards the end of the round, the referee was forced to step in and stop the fight, as Serra suffered massive damage and was unable to defend himself from the GSP's knee blows.
Back to His Winning Ways
At UFC 74 on August 25, 2007, St. Pierre faced Josh Koscheck, who is a four time Division 1 All American and NCAA wrestling champion. St. Pierre was bothered by his opponents credentials, as he out wrestled Koscheck and scored more takedowns while avoiding Koscheck's takedown attempts. Georges maintained top position for most of the fight, where the majority of the fight took place on the mat, and won a unanimous decision from the judges. Many fans thought that Koscheck would own GSP in wrestling but GSP showed the world that he too can wrestle and isn't afraid of any wrestlers in the UFC.
St. Pierre stated a number of times before and after his victory that he wanted a chance to reclaim his lost title and his win over Koscheck had made GSP a top contender for the welterweight belt. GSP was set to fight the winner of Matt Hughes and welterweight champ Matt Serra at UFC 79. Matt Serra would later have to back out of the fight with Hughes because of a back injury he sustained in training, and St. Pierre gladly stepped in to replace Serra. GSP now was set to fight Hughes in a rubber match at UFC 79 for the interim Welterweight title to see who would take on Serra for the undisputed champion of the welterweight division.
At the UFC 79 rubber match, Hughes was unable to generate any serious offense on St. Pierre. Georges showcased his wrestling skills again in this match as he successfully avoided Hughes's takedown attempts and also took Hughes down at will. With only 15 seconds left in the second round, GSP locked in an armbar attempt that Hughes was unable to shake free from and was forced to tap out, giving GSP the victory and the interim welterweight title.
Georges St. Pierre and the UFC Welterweight Championship
Even though St. Pierre was unable to fight at UFC 63, he still made an appearance as he was there to support his Canadian friend David Loiseau in his fight against Mike Swick. Later in the event, St. Pierre stepped in the ring to hype his upcoming title shot against Matt Hughes, who had just won a fight against Penn, and stated that he was happy to be fighting Hughes again but added that he was not impressed by Hughes' performance that night. This fueled the fire for the rematch and Hughes stated later that he was not happy about St. Pierre's comments.
Shortly after, it was announced that St. Pierre would challenge Matt Hughes for the UFC Welterweight title at UFC 65. At UFC 65, the fight between St. Pierre and Hughes was almost stopped at the end of round one when St. Pierre landed a nasty superman punch and left hook but Hughes managed to survive the late attack. Just over a minute into round 2, St. Pierre landed a left kick that dazed Matt Hughes and was followed by a flurry of punches and elbows that went unanswered, forcing the referee to stop the fight and reward St. Pierre with a TKO victory. The win gave St. Pierre his first UFC Welterweight Title and a new six fight deal with the UFC.
Georges first reign as welterweight champion did not last long. At UFC 69 in Georges next fight after winning the welterweight belt, he would lose the title to the winner of TUF season 4 Matt Serra when Serra defeated GSP by TKO just three minutes into round 1. Matt Serra was an 11-1 underdog going into the fight.
Georges St. Pierre Joins the UFC
Georges' dream of being a UFC competitor was realized at the age of 22, when he beat Karo Parisyan by unanimous decision at UFC 46. St. Pierre's next fight in the UFC came at UFC 48 where he faced Jay Hieron. Under two minutes into the first round of their fight, GSP caught Heiron with a punch and went on to defeat Hieron by TKO due to strikes in the first round.
After only his second win in the UFC circuit, UFC president Dana White gave Georges a shot at the vacant UFC Welterweight title at UFC 50 against the welterweight legend of the time Matt Hughes. Georges was not mentally prepared to fight such a skilled and experienced champion in Matt Hughes and GSP admitted that he was in awe of Hughes going in to the fight. Despite putting up a good fight, St. Pierre  suffered his first ever MMA loss as Hughes defeated St. Pierre with an armbar submission in the last second of the first round.
St. Pierre rebounded from his loss to Hughes at TKO 19 event where he defeated Dave Stresser with a kimura submission just two minutes into the fight. After this victory, Georges returned to the UFC where he fought Jason Miller at UFC 52 and defeated by unanimous decision after the fight went the distance and was scored by the judges in favor of St. Pierre.
St. Pierre's next fight would be at UFC 54 where he was matched up against Frank Trigg, a well established fighter and one of the top contenders in the UFC's welterweight division. Georges took control early in the fight and never looked back, as he was able to slip in a rear naked choke at the end of round 1 for the victory over Frank Trigg.
The UFC next scheduled GSP for a UFC 56 fight against future lightweight champion Sean Sherk. Sherk was a scary opponent for GSP at the time, Sherk was 29-1 when he stepped in to the ring to face GSP and Sherk hadn't been stopped in his entire career, before GSP of course. The fight was fairly even throught the first round, then half way through the second round, St. Pierre threw a flurry of punches at Sherk and defeated him by TKO due to strikes at the three minute mark of round 2. It was a major upset victory for GSP and marked Sherk's second loss of his career and his first time he had been finished in a fight.
At UFC 58, St. Pierre was scheduled in a fight against B.J. Penn, a former welterweight champion and then-lightweight champion of the UFC. After a hard fought battle that went the distance, the judges scored the bout as a victory for St. Pierre by split decision, making St. Pierre the number one contender for the Welterweight championship. This victory set up a rematch for St. Pierre against the welterweight champion of the time Matt Hughes.
St. Pierre was set to fight Hughes in a rematch at UFC 63, but was forced to withdraw, citing a groin injury that needed more time to heal and GSP was replaced by B.J. Penn. Dana White and the UFC announced that St. Pierre would have a shot at the welterweight championship as soon as he was healthy enough to fight.
An MMA Career Begins
At 12, St. Pierre had watched UFC 1, and was mesmerized by Royce Gracie's dominance. He competed in his first MMA fight at 16, knocking out his 25-year-old boxing opponent. Georges made his debut in the professional circuit of MMA on January 25, 2002 against Ivan Menjivar and Georges defeated his opponent in the final seconds of the first round by TKO (punches). He went on to win his next three fights with relative ease before he made his debut with a more competitive fight league called TKO major league MMA. At TKO 14, Georges fought against Pete Spratt and defeated him with a rear naked choke submission in the first round, improving his record to a perfect 5-0.
Purchase Georges St. Pierre MMA Gear Now
[phpbay]Georges St. Pierre, 12, """[/phpbay]
Taking Out The Trash
To earn money for school and living expenses, St. Pierre worked as a bouncer in a Montreal club called the Fuzzy Brossard. While there, he enjoyed a unique – if limited – outlet for his talents, clearing the club of troublemakers. He later spent several months as a trash collector in order to pay his bills. During this time, he continued to train in a host of gyms throughout Canada and New York. Eventually, St. Pierre cracked the seal of the UFC.
Life and Times of Georges St. Pierre
Born in Quebec, Canada on May 19, 1981, Georges St. Pierre was inspired to learn the art of hand-to-hand combat at an early age. His inspiration didn't come from watching high-profile fighters dominating their opponents. Instead, he was spurred to learn how to fight by being victimized by school bullies. At 7, he began learning karate from his father and later from a Kyokushin Karate master. After his karate teacher died, Georges expanded his style with Brazilian Jiu-Jitsu. Later, wrestling and boxing further increased his fighting range. However, despite his formidable fighting skills, St. Pierre didn't immediately launch himself onto the UFC circuit. Life had humbler beginnings in store for him.
Georges has trained with a wide variety of MMA training camps throughout his career. He has trained with the Renzo Gracie Jiu Jitsu Academy in New York City to work on his Jiu Jitsu and ground game. St. Pierre received his brown belt in Brazilian Jiu Jitsu from Renzo Gracie on July 21, 2006, and later he earned his black belt in Brazilian Jiu Jitsu under Bruno Fernandes.
St. Pierre has since began training at Greg Jackson's Submission Fighting Gaidojutsu school in New Mexico where he trains with MMA stars Rashad Evans, Nathan Marquardt, Keith Jardine, and other skilled fighters. Georges gets his strength and conditioning work done with coach Jonathan Chaimberg of Adrenaline Performance Centre in Montreal. Georges head trainer is named Firas Zahabi of Zahabi MMA and trains with Zahabi out of the Tristar gym in Montreal. The two coaches along with Greg Jackson have cornered most of GSP's fights. St. Pierre is currently training with Muay Thai coach Phil Nurse at the Wat in New York City where he is working on his Muay Thai striking skills. Georges' ability to learn such a wide variety of fighting techniques has made him one of the most dynamic MMA fighters that the sport of MMA has ever seen.
Career Growth
St. Pierre has proven to be a remarkable fighter who displays a surprising level of grace in victory. After beating Serra, he implored the crowd to respect the defeated fighter. After crushing Jon Fitch in UFC 87, he consoled Fitch by telling him how his own defeats had shaped him as a fighter. Though he once favored relentless striking (he was nicknamed Rush), he has modified his strategy and often tries to take his opponents down quickly with wrestling moves. His extensive training in all of the various fighting techniques has allowed GSP to mold his fight game to cater to whatever fighter he takes on. His training has given him experience in all aspects of mixed martial arts.