BJ "The Prodigy" Penn MMA Fighter Profile
B.J. Penn is an American mixed martial artist and Brazilian Jiu Jitsu practitioner who is the current UFC Lightweight champion. He is currently ranked as the number one Lightweight fighter in the world according to Sherdog, and is arguably one of the top five pound for pound MMA fighters in the world.
B.J. became the first American to win the World Jiu-Jitsu Championship in the black belt category in 2000. He is a former UFC Lightweight and Welterweight champion and is one of only two fighters ever to hold a championship title in two weight classes after he won the lightweight title at UFC 80. B.J. Penn also participated on the Ultimate Fighter season 5 reality show as one of the head coaches.
B.J. Penn Vs. KenFlo at UFC 101
B.J. Penn was next scheduled to fight Kenny Florian in the summer of 2009. The fight was originally scheduled for UFC 99, but was pushed back when Penn requested more time off after his last fight against GSP. The fight was rescheduled for UFC 101 and took place on August 8, 2009. Penn looked like he was in great shape for 155 pounds and was able to defend all of Florian's take down attempts throughout the entire match. Even as Florian kept putting on offensive pressure with grappling and engaging in the clinch, Penn was able to stay on his feet, avoid any big shots that Florian threw, and show bursts of explosive striking.
During the fourth round, Penn was able to execute a nice takedown and gain half guard position, where he punished Florian with wicked elbows until he was able to take the full guard position. A scramble ensued after Penn further abused Florian from the full guard and Penn was able to gain the back of his opponent where it was only a matter of time until B.J. locked in the rear naked choke submission and won the fight in the fourth minute of the fourth round. The choke rounded out an amazing performance and defense of his UFC Lightweight championship.
B.J. Challenges GSP
B.J. challenged Georges St. Pierre for his welterweight title belt on January 31, 2009, the night before the Super Bowl. This led UFC to call the event UFC 94: the UFC Super Bowl Weekend. The first round of the fight was very even, as Penn exercised good head movement, fast hands, and good take down defense, while St. Pierre tried take downs and exchanged punches with Penn. However, Penn turned in a poor performance the next three rounds. Half way through the second, St. Pierre landed his first take down and by the end of the round, GSP had tired Penn out. St. Pierre started round three off with a superman punch that landed right on Penn's nose, leaving him bloodied and flustered. St. Pierre wasted no time and took Penn to the ground. From that point on, GSP was able to take Penn down at will, passed his guard with ease, and punished B.J. with ground and pound attack.
After the fight, Penn admitted that he couldn't recall much of what happened during the later rounds because "I was probably borderline knocked out or something." At the end of the fourth round, after taking more and more abuse from St. Pierre's ground and pound, Penn's corner suggested that the fight be stopped, giving St. Pierre a victory by way of TKO doctor stoppage. Penn was unable to make it to the post fight conference because he had to go to the hospital. In an interview later on after the fight, Penn shared that if he had won, he would have retired on top, with both the UFC Lightweight and Welterweight belts by his side.
A controversy arose during the fight between Penn and St. Pierre. St. Pierre's corner men were seen rubbing his back right after they applied vaseline to his face. The Nevada State Athletic Commission (NSAC) entered the octagon and wiped down St. Pierre and found no significant vaseline. After the fight, St. Pierre explained that the rubbing of his back was a way in which St. Pierre relaxed and re-focused his energies, and he apologized for any vaseline that may have been rubbed on him. Penn immediately sent a formal request to the NSAC and asked them to investigate. UFC President Dana White announced that the incident had no effect on the outcome of the fight but stated that he wish it didn't occur.
BJ Penn's UFC 101 Hawaiian Warrior Post Fight Tee (Black or White)
Lightweight champion B.J. Penn
At UFC 80, B.J. Penn knocked Stevenson down in the opening seconds of the first round with a right uppercut, and cut Stevenson severely on the forehead. Stevenson fought harder in the second round but was still unable to damage B.J. and towards the end of round 2 B.J. successfully took Joe's back and defeated him with a rear naked choke submission 4 minutes into the second round. The victory crowned B.J. as the UFC Lightweight champion and made him the second man ever to win UFC titles in two separate weight divisions.
Penn was now set up to fight Sean Sherk for his first lightweight title defense. The fight was set for UFC 84 on May 24, 2008 against the former UFC lightweight champion. During the fight, Sherk attempted to take down B.J. one time and after that, the fighters traded punches on their feet the rest of the way. Penn utilized his reach advantage well by landing jabs several times, and in the closing seconds of the third round, B.J. landed a punch and a left hook that knocked Sherk up against the cage. Sherk then ducked the follow up punch and ran his head right into the left knee of Penn. This knee put Sherk on the mat and Penn
followed him to the ground with a barrage of strikes but the round ended before the referee stopped the fight. Sherk was unable to continue the fight due to the damage he took at the end of the round and Penn was declared the winner by way of TKO due to strikes. After the fight, Penn asked the crowd if they wanted to see him fight Georges St. Pierre and the crowd roared with ovation. After St. Pierre successfully defended his welterweight title against Jon Fitch, the welterweight title fight between B.J. Penn and GSP was set in stone.
B.J.'s Return to the UFC

At UFC 56 president Dana White announced the return of B.J. Penn after the two agreed to a settlement. Penn returned as the top welterweight contender and made his return on March 4, 2006 at UFC 58 where he would face Welterweight contender Georges St. Pierre. B.J. lost his fight against St. Pierre by split decision from the judges in a fight that determined the number one contender for Matt Hughes' welterweight title.
St. Pierre injured himself during training and as a result, the UFC announced that B.J. would replace the injured St. Pierre in the upcoming title fight against Hughes at UFC 63. Penn controlled most of the first two rounds of their title bout, but suffered a rib injury late in the second round. For the rest of the fight, Penn was noticably a different fighter as he appeared hurt and exhausted. Late in the third round, Hughes was able to take an injured Penn to the mat and proceeded to gain a crucifix side control where he would rain down punches until the referee stopped the fight and awarded Hughes the TKO victory. It marked the first time B.J. was stopped in a fight.
Penn was asked to be a head coach on the Ultimate Fighter season 5 opposite of Coach Jens Pulver that aired on April 5, 2007. Penn accepted the offer and became the head coach of Team Penn, a team of eight lightweight fighters. At the conclusion of the season 5 series, B.J. fought Jens in a rematch in which B.J. won with a rear naked choke submission after controlling Pulver from the mount before gaining his back.
At the UFC 73 post fight conference, Dana White announced that B.J. would remain at the lightweight division to fight current UFC lightweight champion Sean Sherk. Sean Sherk was later suspended by the California State Athletics Commission and Dana White decided to make an interim lightweight championship between Joe Stevenson and B.J. Penn. When Sherk was unable to beat the suspension, his title was stripped from him and the Penn-Stevenson fight became the full out title fight for the UFC Lightweight title which would take place at UFC 80 with the winner facing Sherk in their first title defense.
Purchase BJ Penn MMA Shorts Now With MMA Warehouse
B.J. Penn and the K-1 Fighting Organization
After winning the UFC Welterweight title from Matt Hughes, Penn claimed there was a lack of competition left for him in the UFC and left the UFC to fight in the K-1 fight organization in Japan. The UFC stripped Penn of his welterweight title claiming that Penn had breached their contract and that leaving the UFC did not allow him to defend his title. Penn followed up with a suit he filed against the UFC, claiming that his UFC contract had already expired.
In his first fight with the K-1 promotion, Penn fought his second bout ever at the welterweight division, he defeated Duane Ludwig in just under 2 minutes into round 1 with a triangle choke submission at the 2004 K-1 Romanex fight night. After defeating Ludwig at 170 pounds, Penn moved up another weight class to face the undefeated Rodrigo Gracie at 185 pounds (middleweight) at a Ruble on the Rock 6 event in Honolulu, Haiwaii. B.J. won the match by unanimous decision, ending Gracie's unbeaten streak and extending his win streak to 4 wins.
B.J. Penn's next fight was at the K-1 hero's 1 event on March 26, 2005 against undefeated light heavyweight Lyoto Machida. Penn moved up a weight class once again to fight Machida at an open weight class where Penn weighted 191 pounds and Machida came in at 220 pounds. B.J. lost to Lyoto by unanimous decision from the judges. Later in the year, Penn returned to the 185 pound middleweight division where he fought Renzo Gracie at the K-1 World Grand Prix Hawaii and won the bout by unanimous decision from the judges.
B.J. Penn and the UFC
B.J. Penn's success in the world BJJ championship caught the attention of UFC President Dana White and the UFC who convinced him to give mixed martial arts a try. Penn found it to be a good fit for him and made his debut in the UFC and MMA on May 24, 2001 when he fought, and easily defeated Joey Gilbert by TKO due to strikes in the first round at UFC 31. B.J. proved to the UFC world that he was more than a Jiu Jitsu
specialist in his next two UFC fights, as he beat both Din Thomas and Caol Uno by knock out while demonstrating his striking skills. At this point, Penn was a perfect 3-0 in the UFC and Dana White rewarded B.J. with a shot at the Lightweight champion Jens Pulver at UFC 35. B.J. Penn would suffer his first loss of his career as he and Pulver went the distance and the judges scored the bout a majority decision for Jens Pulver as he successfully defended his belt and handed B.J. his first career loss.
Jens Pulver left the UFC and gave up his title in 2003, forcing the UFc to host a Lightweight tournament to decide its new lightweight champion but that flopped after Penn fought Caol Uno to a draw in the finals at UFC 41. Penn had defeated Paul Creighton in the opening round of the tournament at UFC 37, and then defeated Matt Serra at UFC 39 in the semifinal round.
B.J. next fought at the Rumble on the Rock 4, a fight organization that was promoted by Penn's brother and took place in his home state of Hawaii. B.J. fought against Takanori Gomi, a well experienced Pride fighter with a 14-1 record coming into the bout. B.J. defeated Gomi in the late in the third round with a rear naked choke submission.
After his successful fight at the Rumble on the Rock, Penn returned to the UFC where he was given a shot at the UFC Welterweight Championship title at UFC 46. For the first time in his career Penn jumped up a weight class to challenge the defending UFC Welterweight Champion Matt Hughes who had dominated all available opposition in his weight class and successfully defended his welterweight title 5 times prior to fighting Penn. Hughes was a heavy favorite at UFC 46 against B.J. but B.J. Penn defeated Hughes with a rear naked choke after giving up his back with just 20 seconds left in the first round. B.J. Penn had won his first UFC title belt at the welterweight division.
B.J.'s Legal Troubles
Penn was arrested outside of a nightclub in Waikiki, Honolulu on May 8, 2005 for allegedly striking a police officer in the face. Penn was in a crowd outside of the club when he grabbed an officer and struck him in the face. Penn was trying to find his borther in the crowd when he grabbed someone and shoved them out of his way, it just happened to be a police officer that he grabbed. Penn was given a year of probation in 2007 for the incident.
B.J. Penn Background
B.J.'s real name is Jay Dee Penn but was given the nickname "B.J." as a shortened version of "Baby Jay" which he is often referred to since he is the youngest of of his brothers who are all named Jay Dee Penn. Penn's father, who is Irish and English, named 3 of his 4 boys Jay Dee and the lasts name is Reagan. Penn's mother is named Lorraine Shin is a third generation Korean-American. B.J. has a girlfriend by the name of Shealen Uaiwa who has recently given birth to their daughter Aeva Lili'u.
When B.J. was seventeen he began MMA training in Brazilian Jiu Jitsu with his brothers. He was introduced to it by his neighbor, Tom Callos, who taught B.J. and his brothers what he knew. B.J. grew more and more interested in BJJ and furthered his training for it under Ralph Gracie, where he would eventually earn his purple belt from Gracie. After earning his purple belt, B.J. moved on to train with Nova Uniao, one of the most prestigious Brazilian Jiu Jitsu camps in the world. It was here that B.J. was eventually awarded his black belt in BJJ under Andre Pederneiras in the year 2000. Just a month later, B.J. entered into the World Jiu-Jitsu Championship black belt division Held in Rio de Janeiro, Brazil. Penn shocked the world as he became the first non-Brazilian to win the black belt division of the world BJJ championship. It takes most people ten plus years of training in BJJ to become a black belt and B.J., with only three years of experience, had not only received his black belt, but he went on to win the most prestigious award in Brazilian Jiu Jitsu.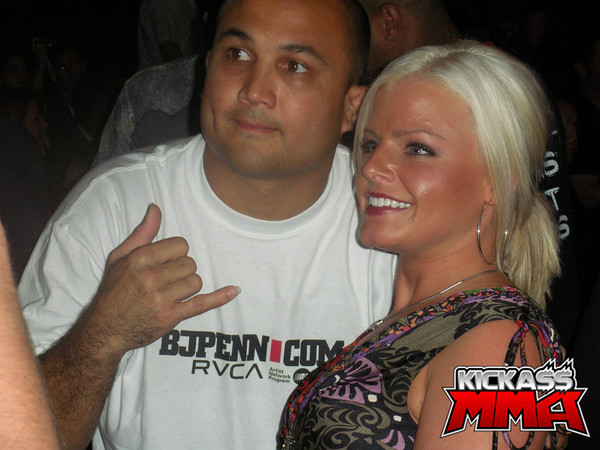 BJ Penn is one of the most dynamic and popular fighters in Mixed Martial Arts today. Check out the links video below to find out even  more about Penn!