Quinton "Rampage" Jackson MMA Fighter Profile
Quinton "Rampage" Jackson is a professional mixed martial artist from Memphis, Tennessee. Rampage rose to fame in Japan's Pride Fighting Championships and is now one of the most popular fighters in all of MMA. He is well known for his powerful slams, as he scored a knockout victory by slamming opponent Ricardo Arona while in a triangle submission. He is also a very strong striker, as his striking ability twice scored him victories over Hall of Famer Chuck Liddell. Quinton is a former UFC Light Heavyweight champion and is set to star as a coach for the second time on the Ultimate Fighter 10: Heavyweights show opposite of MMA star Rashad Evans.  They are scheduled to fight each other sometime later in 2009.
Rampage Jackson Back to Work

Rampage got right back on track following his arrest and began working out with sports physician Carlon Colker for his UFC 92 match up with Wanderlei Silva. Silva is the only MMA fighter to defeat Jackson twice, both in an impressive knockout fashion. UFC 92 would see Rampage avenge his losses to Silva, as he knocked the Axe Murderer out with a vicious left hand blow to the head. There was a bit of controversy surrounding Rampage's finishing of the fight, as many criticized the UFC, the referee and Rampage for the unnecessary few punches that Rampage followed up with after Silva was clearly knocked unconscious. The referee failed to protect Wanderlei from the 3 punches Rampage landed on an unconscious Silva. No actions were taken against Rampage or the referee as all of Jackson's punches landed before the official stop time in the fight.
Next up for Rampage was UFC 96 in March of 2009 where he would face veteran striker Keith Jardine. Before the fight, it was made public that if Rampage won his fight then he would be scheduled to fight Rashad Evans for the Light Heavyweight title, and if he lost then Lyoto Machida would get the shot at the Light Heavyweight title. Rampage went on to win his fight against Jardine by unanimous decision and was then scheduled to fight Rashad Evans for the UFC title belt but Rampage suffered torn ligaments in his jaw from the Jardine fight and was not able to fight Rashad Evans.
Rampage on the Ultimate Fighter 7
UFC president Dana White announced on December 9, 2007 that Jackson will be one of the two coaches for the 7th season of the Ultimate Fighter. At the end of the season, Rampage fought the other coach Forrest Griffin who was the number one contender for the Light Heavyweight title. The two squared off at UFC 86 where Rampage looked to successfully defend his title. Quinton came out of the blocks firing, as he landed many good power punches and eventually knocked Griffin down.
In contrast, Griffin was constantly pushing the fight by being the more aggressive fighter. Griffin was landing a great amount of leg kicks which were slowly taking their toll on Jackson, as you could see in the later rounds that Rampage was beginning to nurse his hurting leg. The last three rounds of this title bout were quiet and uneventful. The fight went to a decision where the underdog Griffin was awarded with a unanimous win in what can be considered an upset.
Rampage Jackson was involved in a hit and run accident, followed by a high speed police pursuit in California following the loss of his title match. He is scheduled to be sentenced for his actions in January of 2010.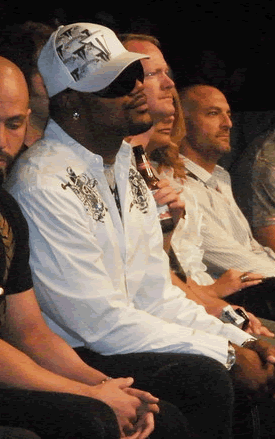 The events went as follows for Rampage:
Quinton loses his fight to Forrest Griffin at UFC 86 on July 5th, 2008
Quinton tells reporters that he has become depressed after the loss of his UFC Light Heavyweight title
July 15 2008, Jackson takes local police one a wild vehicle chase in his lifted F-350 as he struck a number of vehicles, drove on the wrong side of the road, on sidewalks and with a blown tire
Jackson is arrested a day later and charged with suspicion of felony reckless driving, and felony hit and run after hitting several parked vehicles
He was charged with 1 felony count of evading police while driving recklessly, 1 felony count of driving against traffic, and 3 counts of hit and run property damage, and one count of reckless driving as he almost hit several pedestrians
Not long after he was seen at UFC 87!!! (See Picture Right)
Rampage and the UFC
Rampage fought one fight under the World Fighting Alliance before Zuffa and the UFC obtained the rights to Rampage Jackson's contract. Jackson won his fight against Matt Lindland by a split decision at WFA:King of the Streets in July of 2006.
Rampage told reporters in an "Inside the UFC" television program that it was finally time for him to enter the UFC and that he had resisted coming to the UFC because of a close friendship he held with UFC veteran Tito Ortiz. He said that, since he was in the same weight class as Ortiz, he did not want to interfere with the UFC star.
At UFC 67, Rampage made an instant impact on the UFC in his debut fight, as he knocked out Marvin Eastman, avenging an earlier loss to Eastman.
Rampage was rewarded for his efforts at UFC 67 with a shot at the UFC Light Heavyweight title belt at UFC 71. On May 26, 2006 Jackson challenged Light Heavyweight champion Chuck Liddell in a rematch of their 2003 Pride fight. Only 90 seconds into the fight Jackson caught Liddell with a strong right hand to the jaw that put Liddell on his back, where Rampage preceded to pummel Liddell causing the referee to stop the fight just under 2 minutes into the first round. Rampage was now the UFC's Light Heavyweight champion.
At UFC 75, Rampage went on to defeat Pride Middleweight Champion Dan Henderson via unanimous decision, giving Rampage the title of both Pride Middleweight Champion and UFC Light Heavyweight Champion. Rampage is one of only two people to ever accomplish this feat, the other being Randy Couture.
Purchase Rampage Gear with MMA Warehouse
Quinton Jackson and Pride Fighting
While Jackson was successful in these amateur fighting leagues, he really found his fame on foreign soil, where he fought in the Pride Fighting Championships. Jackson entered Pride in 2001, at Pride 15 where he fought Japanese superstar Kazushi Sakuraba. Sakuraba, at the time was one of the most prominent domestic fighters, beat Rampage with a rear naked choke but Jackson's performance opened the eyes of Pride fans everywhere.
At Pride 17, Rampage was invited back to fight Yuki Ishikawa and scored a vicious knockout victory. In Jackson's next bout he unfortunately was disqualified because of an accidental low blow against Japanese Pride fighter Daijiro Matsui. This loss fueled Quinton to defeat four prominent Pride fighters including Kevin Randleman, and Mikhail Illoukhine in successive Pride fights. During this time, he also made appearances in kickboxing fights with a pair of victories over kick boxer Cyril Abidi under K-1 rules. Many fans underestimated Jackson, thinking his wild striking style would be easily overcome by a more technically savvy fighter in Cyril Abidi. To everyone's surprise, Rampage came out swinging and absolutely owned Abidi, knocking him down less than a minute into the fight. Quinton went on to finish Abidi with a underhand right to the chin, putting Abidi asleep only 1:55 into the opening round. Abidi was clearly embarrassed after being handled so easily by a free swinging striker like Rampage and on New Year's Eve he got his rematch in another K-1 ruled fight. Jackson once again quieted his critics as he beat Abidi again, this time in a more dominating fashion as he won a unanimous decision. It was the last time Jackson would fight in a kickboxing league.


Shortly after beating Abidi, Rampage began stating his desire to challenge Wanderlei Silva for the Pride middleweight title. Jackson went on to win the opening round of Pride's 2003 Middleweight Grand Prix beating Murilo Bustamante by split decision.  Jackson then fought UFC's Chuck Liddell in the tournament's semifinals at the Pride Final Conflict 2003 and won by corner stoppage. This pitted Rampage against Silva for the middleweight title. This championship bout between Rampage and Wanderlei was considered the fight of the year by many MMA media outlets. As soon as the opening bell sounded, Jackson had Wanderlei on the ground in what looked like a promising start for the challenger. After fighting on the ground for a few minutes, the referee called for a stand up and Jackson was stopped shortly after with a barrage of knees to the head.
Jackson didn't waste much time and continued his Pride fighting career with a pair of victories over Ikuhisa Minowa and Ricardo Arona, in the infamous fight where Jackson knocked Arona out with a power bomb slam while he was locked in a triangle choke.
These wins set Rampage up for his rematch with Wanderlei Silva. In the opening round, Quinton floored Silva by taking him down multiple times and landing a series of knees and elbows at the end of the round. Jackson continued to dominate Silva by scoring take downs in the second but Silva found an out and escaped to his feet. As soon as the fight was stood up again Silva took over and didn't look back, as he knocked Rampage out with brutal knee strikes to the head for the second time.
Jackson went on to take fights against Silva's two Chute Box training camp partners, brother's Murilo Rua and Mauricio "Shogun" Rua. He fought Murilo Rua first and won the fight by split decision, and then fought the younger, more talented brother Mauricio Rua. In the elimination round of Pride's 2005 Middleweight Grand Prix, Shogun handled Jackson with ease, scoring a TKO victory over Rampage while breaking Jackson's ribs early in the fight.
Rampage's trainers were irate with their fighter after his loss to Shogun and the two parted ways, leaving Rampage without a training coach. Shortly after their split up, Juanito Ibarra, a well known boxing and MMA trainer, saw potential in Jackson. After a meeting between the two, Jackson entrusted Ibarra with his training direction and managerial responsibilities.
Rampage fought two more bouts in the Pride organization, earning two more wins over Hirotaka Yokoi and Yoon Dong-Sik before leaving Pride for other fight venues.
Rampage in the Early Days
Jackson was born and raised in the city of Memphis, Tennessee, and attended Raleigh- Egypt High School where he was an all-state wrestler. Rampage originally planned on pursuing a career as a professional wrestler but ended up extending his amateur career at a junior college where he discovered MMA. He decided to try the sport of MMA and built an impressive record of 11 wins and 1 loss while fighting in smaller scale MMA promotions such as King of the Cage, and the Gladiator challenge.
Personal Life of Quinton Jackson
Quinton Jackson lives in Irvine, California and has quite a large family. He has four children in total, two of them (D'Angelo and Raja) from a previous relationship and two (Elijah and Naname Nakia) with his current wife Yuki. His wife Yuki separated from Rampage after a positive blood test proved that Rampage fathered Raja with another woman in 2000. He and Yuki have since gotten back together.

Most people are unaware that Rampage is a born again Christian and now leads a life devoted to Christianity. He renewed his vows to Christianity sometime in September 2004 after his successful fight with Ricardo Arona. Josh Gross, a writer from Sherdog described Jackson's experience: "In the middle of a late-summer night Jackson and his kindergarten-age son D'Angelo woke up to separate, though eerily similar dreams. Both were shaken, so much so that at 4 a.m. they had to get out of their apartment. To Jackson, it was a sign. 'You know how girls cry when they're happy?' he said. 'That's how I was. I think I felt Jesus' love. I don't know. I automatically knew everything after I was born again.'"
Outside of fighting, Rampage has had a fairly successful career as an actor in small scale television productions. He has appeared in shows such as Confessions of a Pit Fighter, The Midnight Meat Train, and Bad Guys. Rampage has also appeared as a guest on an episode of the King of Queens and Pimp My Ride. While Jackson has no intentions of making a career change, he is set to appear in a few more small scale TV productions.