Dethrone Royalty Clothing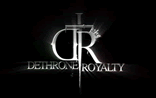 Dethrone Royalty may be a brand that is new to your ears but it is a rising MMA brand that is getting major MMA fighter respect.  The Dethrone Royalty brand was formed in 2009 and includes top MMA athletes, world champion boxers, and everyday kings.  It is one family following two rules:  defeat thy rivals and demand their respect!  This motto helps bring this MMA clothing brand into popular mainstream. Fighters such as: Phil Davis, Jose Aldo,  and Cain Velasquez are sponsored by Dethrone Royalty.  Check out their walkout shirts below as well as many other Dethrone clothing options!
Dethrone Royalty – Walk Out T-shirts
Check out and buy more Dethrone Royalty Shirts here!
Dethrone Royalty – Men's T-shirts
Dethrone Royalty – Women's T-shirts
Dethrone Royalty – Hats
Dethrone Royalty clothing is worn and loved by MMA fighters like: Ben Henderson, Gray Maynard, Jason Ellis, Phil Davis, Josh Koscheck, Cain Velasquez, Jose Aldo, Jon Fitch, and more.  These fighters have seen a new hot brand and enjoy the fit of the standard 30/single ring spun combed cotton, performance fitted t-shirts.  Check out Dethrone apparel – the latest hot brand to hit the MMA arena!