UFC Fight Night 19, and UFC 102 Walk Out  T-Shirts
We have found the latest fighter walk out t-shirts  from UFC Fight Night 19 and UFC 102 worn by the elite MMA fighters in the sport. We have walk out t-shirts from Roger Huerta, Nate Marquardt, Randy Couture, and many more! Check our collection from both the UFC Fight Night 19, and UFC 102 below.
UFC 103: Belfort Victorious in Return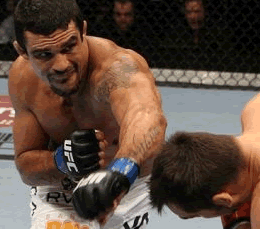 Boy did we ever see fireworks go off at UFC 103, almost every fight on the main card ended in either a knock out or stoppage due to strikes. In front of a packed American Airlines Center in Dallas, Vitor "The Phenom" Belfort made quick work of former middleweight world champ Rich Franklin in his return to the octagon since 2005. The Phenom delivered a devastating left hook that sent Franklin to the mat where Vitor made quick work of him, forcing the referee to call a stoppage to the fight and awarded Belfort with a KO vicotry at the 3 minute mark of round 1. Vitor is riding a 5 fight win streak and is now in line to fight Anderson Silva for the UFC middleweight title belt.
Get the Hottest Styles and Most Popular MMA Clothing Brands
With all of the new MMA clothing coming out, it's hard to keep up with the new styles and designs from the hottest brands such as Silver Star, TapouT, Cage Fighter, Bad Boy and other top MMA brands. Find the latest walk out shirts from your favorite fighters and get the MMA shirts worn by fighters like Georges St. Pierre, Urijah Faber, Rampage Jackson, and a number of others. We have all of the newest styles from the most popular MMA gear brands from MMA Warehouse, the leading online carrier of everything MMA.

UFC 103 Fight Card Is Jacked With Big Names
UFC 103 will be one of the best fight nights in history with all of the big name MMA fighters that are scheduled to face off on September 19, 2009. The MMA World has been anticipating the main event fight between Rich 'The Ace' Franklin and Vitor 'The Phenom' Belfort. Belfort is making his long awaited return to the octogon to face Rich Franklin, who is coming off a huge win over Wanderlei Silva, in a 195 pound catch weight bout. The rest of the UFC 103 fight card line up is finalized and it showcases a number of great fights.
Nate Diaz Vs Melvin Guillard Highlight A Talented Fight Card
The UFC fight night 19 will feature two awesome Lightweight fights that are sure to please the fans. Best of all it's aired for free on Spike TV. Nate Diaz will square off with Melvin Guillard in the main event of the UFC Fight Night 19 event on Wednesday, September 16 in what should be an excellent night of fights. Diaz is looking to get out of a funk, in which he has two decision losses in a row in his last two bouts, and Guillard is riding a 3-fight win streak. This should be a hard fought match that will likely go the distance.
UFC 102 was highlighted by a number of entertaining knockout victories on both the main fight card and the preliminary fight card. Antonio Rodrigo Nogueira made a statement with his impressive victory over Randy Couture and Nate Marquardt solidified his case for number one contender for the middleweight title with his quick work of the former undefeated middleweight Demian Maia.